The Sheep's Nest
Revell F4U-1A Corsair diorama in 1/144
Started:

october/2000
Finished:

november/2000
* This article was originally published by

Air and Sea Models

magazine, number 9, 2001.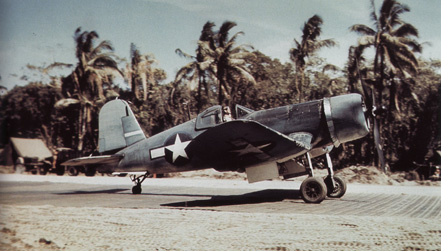 A rare color photo of an unidentified F4U-1A of VMF-214: "The Black Sheep".
Under command of Maj. Gregory "Pappy" Boyington, the unit became one of the
most famous fighter units of WWII.
Pappy Boyingston's VMF-214
Undoubtly one of the most famous fighter squadrons of all time is the VMF-214, The Black Sheep. Contrary to popular belive, the Black Sheep was the second encarnation of the squadron, originally called "The Swashbucklers". The nickname Black Sheep originated at a unit party during the first days at Munda. Since they had been thrown together so hastily from replacements, the pilots decided to call themselves "Boyington's Bastards." Frank Walton, the squadron's intelligence officer, was told the next day by a Marine public relations officer that the nickname would be unacceptable for newspaper accounts, so the fliers called themselves the "Black Sheep".

The enduring fame of VMF-214 is due a number of reasons, but the unorthodox leadeship of Maj. Gregory Boyington and the famous (and greatly exaggerated) TV series from the 70's "Baa Baa Black Sheep" (based on the autobiography of Boyington himself) are the most significant. Because the 31 year old Boyington was at least 10 years older than most of his pilots, they started calling him "Pappy" or "Gramps". The untold side of the fame is that the Black Sheep earned its excellent reputation because they performed greatly as a fighter squadron in those difficult war days. Needless to say, with Boyington's extensive combat experience (he had fought early with the Flying Tigers in China), his colorful personality and his friendly relationship with the press, though, the unit was always in the national spotlight.
When he returned to the United States following the disbanding of AVG, Boyington claimed to have shot down six Japanese fighters, a disputed claim until today. Boyington finally secured command of VMF-222 for a combat tour, but did not see much action. It was not until he was ordered to form a new squadron, VMF-214, and move to the Solomons that his scores began to mount.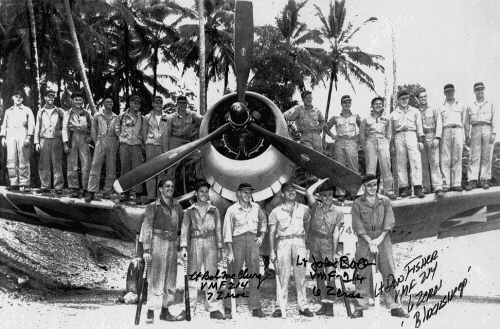 "The Black Sheep" rooster on the sturdy wings of F4U-1 Bu.No. 17740. Pappy Boyington
is the third from right, front row. Aces John Bolt and Don Fisher are at his left while
Robert McClurg is at his right side.
In the early part of World War II, from island to island campaign in the South Pacific, there occasionally cropped up flyers who were unattached and who were separated from their squadrons by reason of illness or breakup of their organizations. They had been left out of it somehow in the shuffle and had no way to get back into the fight. Some were veteran combat pilots with several kills to their credit; others were pilots newly arrived from the United States as replacements. This was the situation at Espiritu Santo, New Hebrides, when finally the persistent campaigning of Maj. Boyington and Maj. Stan Bailey (who was later named executive officer) was rewarded when wing headquarters gave them permission to form the stragglers into a squadron. VMF-214 was commissioned early in 1943 at Ewa on the island of Oahu in the Hawaiian Islands, with the understanding that they would have less than four weeks to mold themselves into a fully trained, completely coordinated Marine squadron. This was accomplished by flying every day and night with their eight Corsairs. In August of 1943, 27 young men under "Pappy" Boyington's leadership formed the core of the second VMF-214. So they were sent to South Pacific...
The "Black Sheep" fought their way to fame in just 84 days, piling up a record 197 planes destroyed or damaged, troop transports and supply ships sunk, and ground installations destroyed in addition to numerous other victories. They flew their first combat mission on September 16, 1943, escorting Dauntless dive bombers to Ballale, a small island west of Bougainville where the Japanese had a heavily fortified airstrip. They encountered heavy opposition from the enemy Zeros, and 'Pappy' claimed five kills, his best single day total. In October VMF-214 moved up from their orginal base in the Russells to a more advanced location at Munda. From there they were closer to the next big objective -- the Japanese bases on Bougainville. On one mission over Bougainville, according to Boyington's autobiography, the Japanese radioed him in English, asking him to report his position and so forth. Pappy played along, but stayed 5000 feet higher than he had told them, and when the Zeros came along, the Black Sheep blew twelve of them away.
During the intense period from November 1943 to early January 1944, Boyington destroyed 22 Japanese aircraft. By late December, it was clear that he was closing in on Eddie Rickenbacker's WW I record of 26 victories, and the strain was starting to tell. On Jan. 3, 1944, Boyington was shot down in a large dogfight in which he claimed two enemy aircraft. He landed in the water, badly injured. After being strafed by the Japanese fighters, he struggled onto his raft until captured by an enemy submarine several hours later. They took him first to Rabaul, then to Truk, and eventually to a prison camp outside of Yokohama. His autobiography relates the frequent beatings, interrogations, and near starvation that he endured for the next 18 months. When he was repatriated, he found he had been awarded the Medal of Honor and the Navy Cross.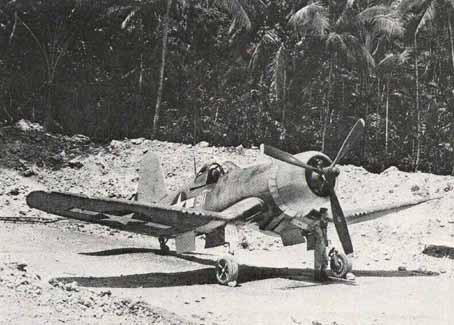 This is the photo that inspired the author for this project. "Mary-Jo" is a F4U-1A
of VMF-212 parked in a Vella Lavella revetment. VMF-211, 212, 214, 215, 216 and 221
shared Vella Lavella, Munda and Torokina facilities, ground personal and sometimes even
aircraft during the last months of 1943 - early 1944. Note the "Flintstone's wheel shocks".

Revell's 1/144 scale Chance Vought F4U-1A Corsair (kit #4098) was released during the late 60's and early 70's period. A very complete Revell range of WWII fighters in 1/144 scale reached the shelves during that time, and some of them are really good models, considering the scale. Along the last 30 years, most of them were re-released under Revell label in countries like Mexico, Brazil and Germany, to cite a few (I've heard that some of them were originally issued by Crown Models, but I wasn't able to confirm that). The sample I've used for this project is a Revell-Germany item, with the box art preserving the original Revell-USA picture showing a pair of VMF-121 Corsairs. Altough out of production, this particular kit still can be found in club meetings, shows and well stocked hobby shops.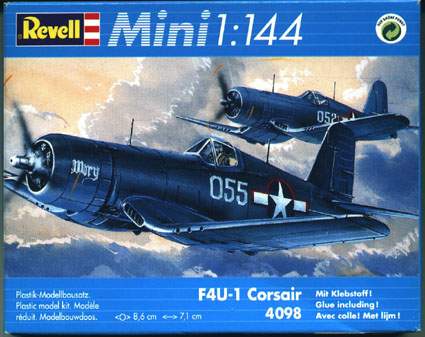 The kit come with a single light grey sprue of parts, plus a single clear canopy, decals and a half-A4 instruction sheet of exploded view type. Except for the fin, the kit is reasonably accurate in shape and dimensions, but as one could expect from a kit of this age, there are several points that would keep a purist away from this model. Here are some of them:
The fit is poor. Landing gear and horizontal stabilizers fit loosely.
All panel lines and hinges are raised.
The vertical stabilizer has a wrong shape.
There's no cockpit detail.
There's no wheel wells details. The doors are excessively thick for the scale.
The tail wheel is horrible, including the well, and is molded with a fuselage half.
Main landing gear struts, wheels and front doors are molded in one single piece.
The clear part is useless.
The propeller hub is symbolic, but the blades are usable.
Some of the faults listed above may be a consequence of the mold's age. On the other hand, this is a quite unusual scale for WWII single engine aircrafts, and only a few details could be molded without oversizing. In addition, I didn't bother to check the dimensions against scale drawings because in this scale even a thick decal may change the dimensions!
The kit's decal sheet includes a single option: VMF-121's Corsair #55 called "Mary". They're very well printed, as one could expect from Revell-Germany. The ID number 55 on both fuselage sides are printed in white but, according to references, it should be yellow #56. Furthermore, almost the entire fin of VMF-121 Corsairs used to be painted white, as an identification aid. This is not mentioned on the painting instructions neither in the box-art.


FG-1A of Captain Francis E. Pierce Jr., VMF-121, Peleliu,
November 1944. This is the aircraft depicted in the Revell kit.
As for after-market products, to the best of my knowledge there's only one after-market items for this kit: Scale Link has a very complete range of 1:144 cockpits for several kits, including the F4U Corsair (reference #14408). The current price of this accessory is about £0.70, but I can't make any further comments about it since I've never got one in my hands. Now, onto the model...

Ok, it's a tiny model. Anyway, I think that well assembled models in this scale are impressive by their own size, not because of any possible detail. With this idea in mind, I decided to built this Corsair correcting only those too obvious faults. Then land it on a mini-diorama so that the overall effect of the 1:144 scale could be appreciated.
The first step was to scratchbuild a basic cockpit interior. Seems too much, I know, but at this point I wasn't sure whether the cockpit would be open or closed. The items scratched here are: panel, bulkhead, floor, seat, side consoles and a control stick. Plastic card and sprue were used, and painted Model Master interior green (FS 34151) and black enamels. Smaller details were picked using a 0.1 mm ink pen with white paint. The control panel instruments were simulated making small white circles over the black panel. To my surprise, most of these are visible from the outside, and it is far better than an empty cockpit. The rule of thumb here is "illusion".
Next, I decided to scratch build a new tailwheel, because the kit renderization is molded integrally with the fuselage and devoid of any resemblance with the prototype. I've used the kit wheel and assembled a new strut using plastic stripes. The wheel was glued in a reverse position, since aircrafts are generally pulled back to revetments by ground crew. I didn't bother with the tailhook, because most ground based Corsairs didn't use it to save weight. I carved the well to accept the new tailwheel strut, a little thinning here and there and left it. At this point I decided not to replace the tailwheel doors. I would regret hardly later. To replace them would be a simple task of cutting plastic card, and it would improve the aspect of the model. Fortunately, this is not a much visible area on the finished model.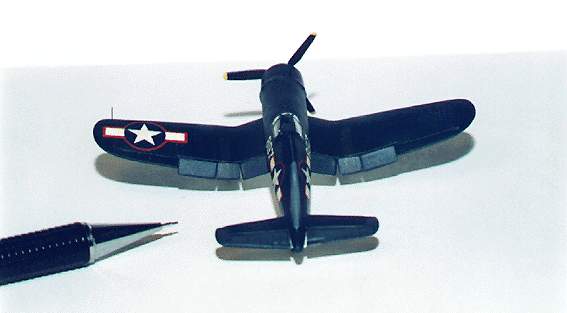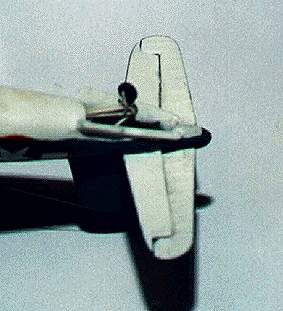 The cockpit and the new tailwheel were installed and the fuselage halves glued. Then I carved the wheel bay areas on the inside of the top wing halves to clear some further room (without this the wheel well would be too shallow) and painted them Testors Interior Green (FS 34151) enamel. I gave up the idea of inserting the well walls. Next, I cut the flaps off to assemble them deployed. The top and bottom wings were assembled and glued to the fuselage. The small flaps were reshaped and reattached to the wing (yes, I know that the dash 1 and 1-A never parked with flaps down, but I couldn't resist). The good thing about small scales is that the gaps in general are also small, what allowed me to solve most gap and seam problems using Gunze Mr. Surfacer. The bad thing is that any sanding you do will usually remove more than you indeed want to.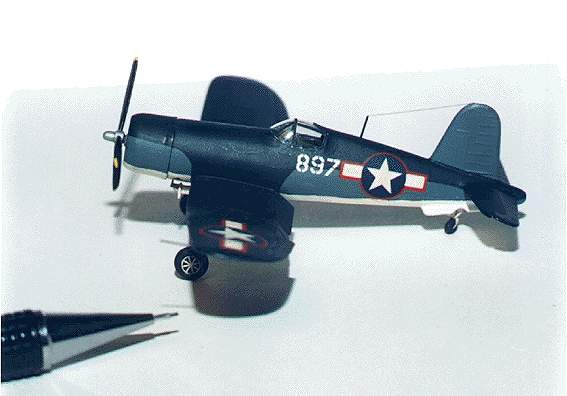 Now comes a difficult step: to scratch a new canopy. Most WWII pictures of aircrafts parked on airfields in the Pacific area show closed canopies, certainly to keep sand and coral dust out. This gave me an excuse to build an integral closed canopy. As I said before, the kit part is really bad, but I used it as a starting shell to make a male mold and form the new part. After reinforcing the inside of the kit part, I applied a thin coat of putty on the outside and sanded/checked it carefully until a good shape was achieved. Then the master was inserted in a handle and I formed several new parts. I selected the best two, cut and dipped them in Future Floor Wax. So far, to scratch a new canopy was a relatively easy task. The next problem is a different story: how to install it on the fuselage? I couldn't make use of any kind of slots because they would be quite visible. So I decided to butt-joint the new canopy on the cockpit edges using 5-minute epoxy. It worked, but filling/sanding the seams was a real nightmare.
During the cleaning process, one of the kit stabilizers fall down in my messy floor, and I'm still looking for it. So, I decided to make a resin copy of the one left and glue it inverted. Then I realized that to cut the elevators would be an easy job. I prepared several copies of the kit stabilizer and carved two of them leaving only the control surface and with two others I carved in a way that only the rigid fin of the elevator was left. These were securely glued to the fuselage and the control surfaces were finally installed in a slightly down position. The effect is very convincing, and helps to hide the (overthick) tail wheel doors.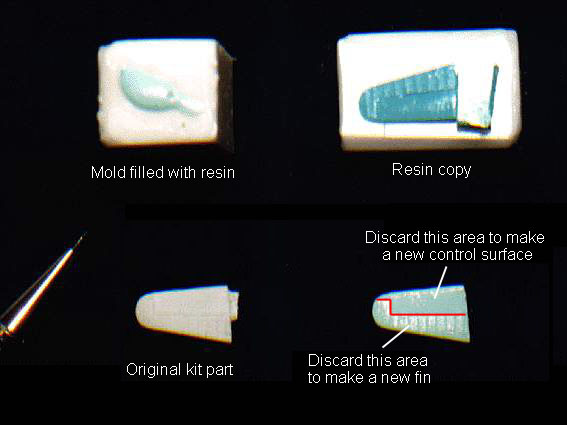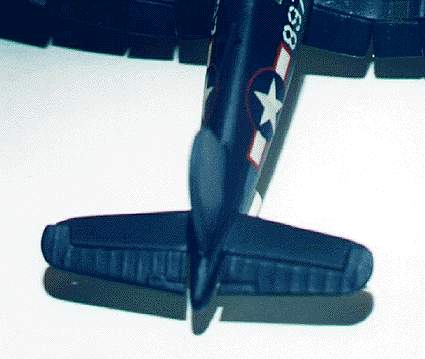 Proceed to the main wheel. I wasn't happy with the general aspect of a single part main undercarriage since the beginning of this project. So I used a motor tool to carve the wheel out from the kit part until a L-shape leg if left. Much easier than it seems. Then I made resin copy wheels from a Minicraft Avenger in 1:144 scale. The number of wheel spokes are different for these aircrafts, but the "artistic license" in 1:144 is much broader than in the popular scales. I foresaw that it would be difficult to paint wheel spokes of that size. I tried drybrushing but it didn't work. An interesting technique was devised to solve this: make the resin copies of the wheels in the color of the spokes (white, in my case). Remeber to exaggerate a bit on the amount of pigment used to ensure a solid colored copy. Then apply thinned Aeromaster tire-black paint on the recessed spokes and tire using a toothpick or needle. The capillarity will fill the recessed areas preserving the color of the resin on the raised ones. I called this the "reverse painting method" and it can be used in a number of situations. To finish with the landing gear, I thinned the well doors to scale and left them together with the gear legs and wheels to install later.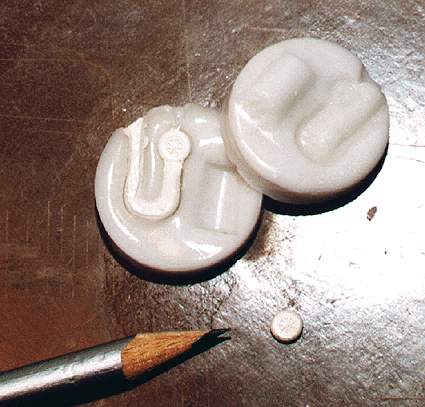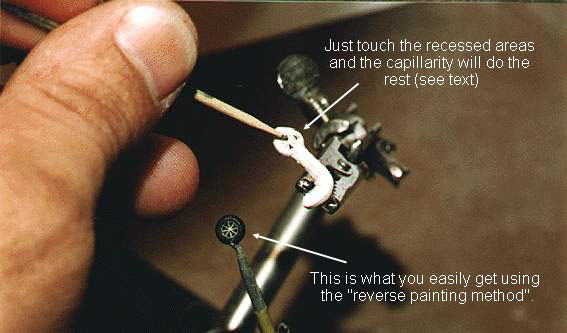 The propeller hub is very badly molded and I replaced it for a new one scratched by turning a small piece of sprue attached to a motor tool against a file. The kit blades were cut off, sanded and attached to the new hub. Then the engine cowling was cleaned and glued to the fuselage and the propeller was left aside for easy painting. The final step in the assembly line was to scratch a Brewster bomb rack using plastic card and stretched sprue. This was attached later to pre-drilled holes just behind the cowling.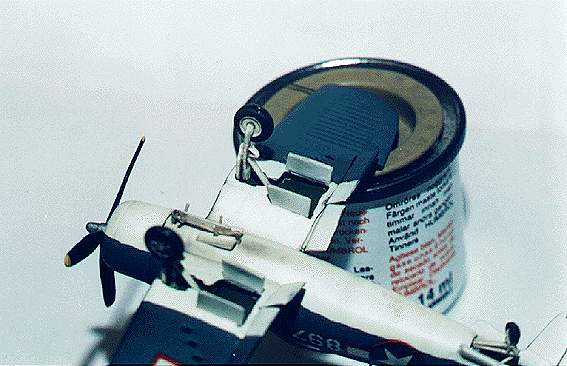 It's painting time. References state that Vella Lavella based squadrons receive a batch of new F4U-1A's in the end of 1943. According to Joe Baugher's American Military Aircraft Encyclopedia, the Bu.No. 17456 to 18121 are all dash 1A's (except for 17516, converted to XF4U-3). After VMF-214 wartime photos, many of their aicrafts appeared to have field-applied (highly blended and faded) three-tone colors. Photographic evidences also show that many Corsairs of this batch left Strattford factory already in three-tone scheme, but I can't assert wheater the 17897 is one of them.
I used only Model Master enamels for this little Corsair cammo, slightly toned down with white for the "scale effect". I started by hand brushing the white undersides in three or four very thinned coats. Next I masked the white areas and airbrushed intermediate blue (FS 35164), including the undersides of the outer wings. Then masked all lateral/bottom surfaces and followed with non-specular sea blue (FS 35042) on the remaining upper surfaces. I didn't paint the canopy frames. I'd use decal stripes later. The masking produced a wavy hard demarcation line between colors, but I think this is acceptable in this scale. The propeller was painted as typical.

For the decals, the stars from the kit sheet were used, and their are of the red outline style. This type of star was still very common in the end of 1943. The white fuselage numbers came from Aeromaster US 45 degree ID Numbers & Letters (product #72-012). The tiny black numbers in the front wheel door were cut from a 1/48 serial number. The canopy frames were made cutting thin stripes from Aeromaster canopy trim (sea blue over zinc chromate - product #FB-07).
Wheatering was accomplished mostly using pastels. Panel lines and the exhaust stains were enhanced using dark brown and black. Some panels and fabric covered areas were masked using post-it paper and faded using light grey pastels. The landing gear received a heavy wash of burnt sienna artist oil, as well as the tailwheel. Brown oil wash was also applied on recessed areas on the underside of the fuselage and behind the cowling. Paint chipping was simulated with small dabs of Model Master Aluminum plate buffing metalizer carefully applied with a 000 brush.
An overall coat of Testors Dullcote sealed everything and resulted a very flat finish. On the other hand, the fading achieved with the pastels was reduced considerably. I decided not to reapply it. A very thin aerial antenae finished the Corsair. Now move to the base.


The Base
The diorama base is a home-made mix of plaster and tan/brown color pigments. The mix was poured on an Aluminum foil laid over a piece of glass. After dried, the foil was removed. This formed my randomly bounded shell over which everything would be placed. Incidentally, I didn't mixed very well the color pigments with the plaster and this produced a irregular top surface, resulting in a very convincing crushed-coral emulation. Next, I added several layers of railroad ballast glued with Future Floor Wax to simulate a pile of coral, sand, stones etc pushed aside by a bulldozer. At this point, everything received a very thinned coat of dark sand. While this was still wet, some sand grains were sprinkled around low traffic areas. Caution is necessary here, as even a sand grain seems a big stone in this scale. An even darker sand color was washed over the pile. Later, a gentle drybrushing of light tan highlighted the raised edges. This gave a shadowed effect to the stone pile. Finally, a heavy application of white and sand pastel chalk toned down the maintenance area.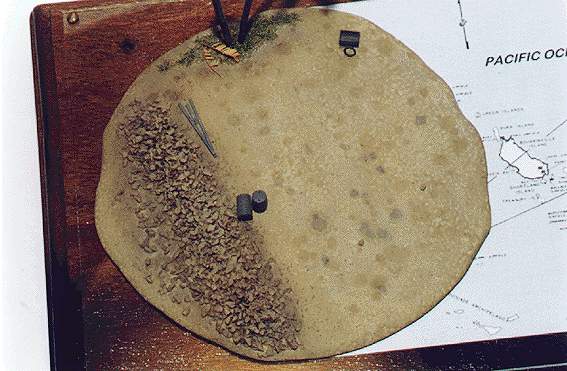 In order to have a genuine South Pacific island diorama, some palm trees are necessary. To cut some work down, I decided to include two, one of them being very battered as consequence of earlier battles or bomber raids. The trunks are plastic rods slightly bent in hot water. To simulate the rings around the trunks, I twisted the rods against a heavy duty steel wool. They were painted with a mix of dark gray/green. The fronds came from a natural plant I cultivate at home. This kind of plant use to bend heavily after you remove them from their arms. The trick is to brush some Future Floor Wax on it before removing them. Because Future dries very fast, this will "freeze" the leaves with the shape you want. Interestingly, the Future application keeps the natural color of the leaves during several years, but a flat clear coat is necessary to remove the shiny finish. Of course it is quite boring to glue each frond in a convincing position, but the result is worth. The battered palm tree recieved two dry fronds and a flat black drybrush on its upper end to simulate soot. Around the base of the palm trees I applied a small amount of Vernlinden's static grass to depict some ground vegetation. I also laid some dead fronds on the grass, as well as some dead leaves here and there.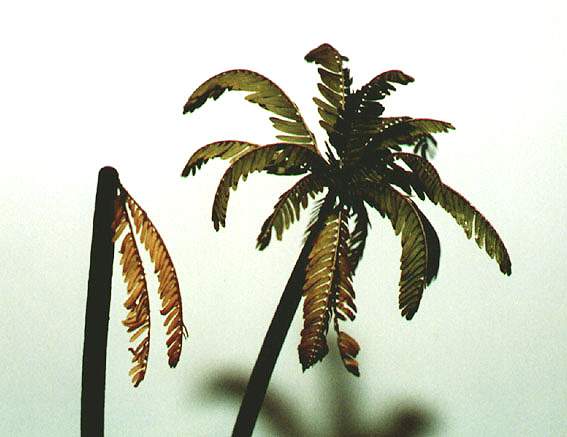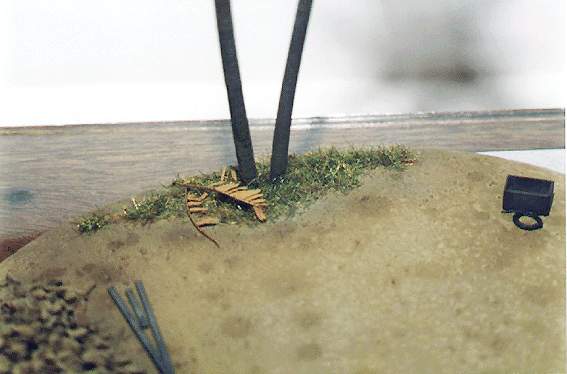 As a maintenance area, some gizmos were also added: an open crate made of plastic card, a rope and some steel spars scattered randomly. I also included a couple of fuel drums made from a short lenght of plastic rod with two stretched srpues glued around them. Two small hole were drilled on the top of the drums to simulate open caps. Then the diorama base was glued on the top of a clear acrylic plate and the plate was fastened to a wood base. Between the plate and the wood base I sandwiched a small map of the Solomon Islands. A steel plate with the name of the diorama, Bu.No. etc. completed the base. It looks beautiful. The diorama base took me about the same time of the Corsair, but it was a good personal chance to try some new diorama techniques.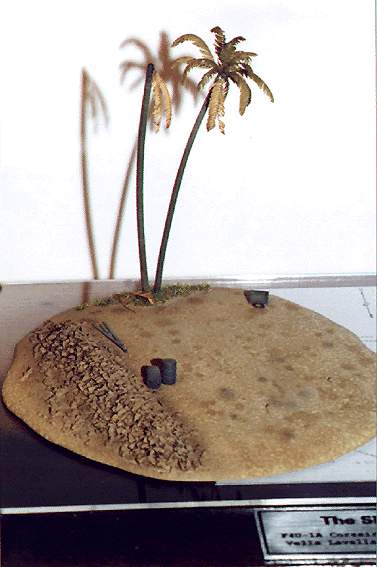 And that's it. Now the little Corsair was positioned using small dabs of white glue. No ground crew, no pilots. Fortunately, it is very hard to find good figures in this scale (it would be a real core to paint them...). As a final touch, I added a couple of single ballast stones in front of each main wheel to simulate the "Flintstone's wheel shocks", so common in wartime pictures.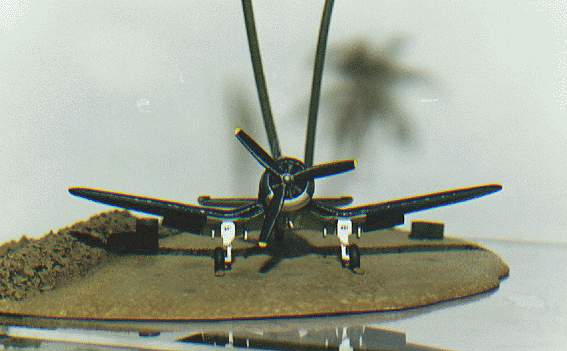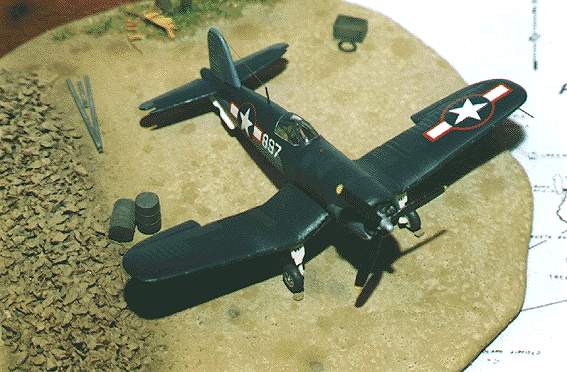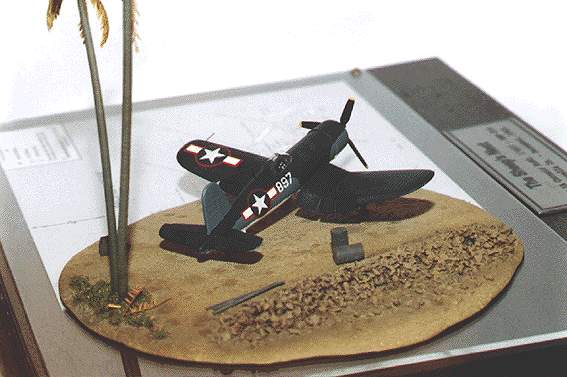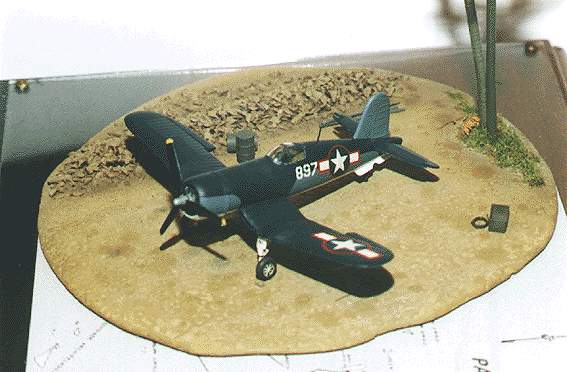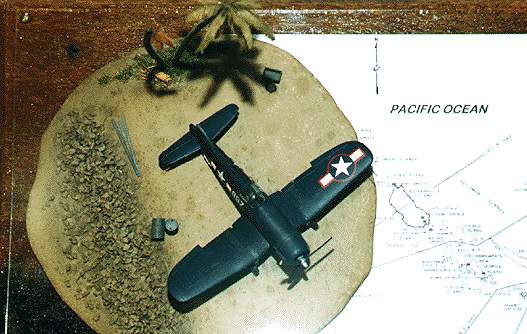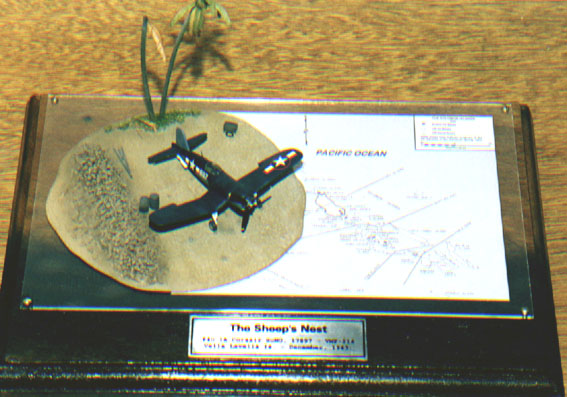 This should be a two weekends project. I didn't clock it, but I estimate it took me about 60 hours to complete, spanning 2 summer months. Most of this time was spent correcting the kit flaws and on trial & error preparing the base. My 1:48'ers fellows are always complaining about the 1:72 scale being too small. Let me tell you that my favorite scale is the 1:32. And I can't explain why, but now I fell much more confident to build a 1:32 F4U Corsair.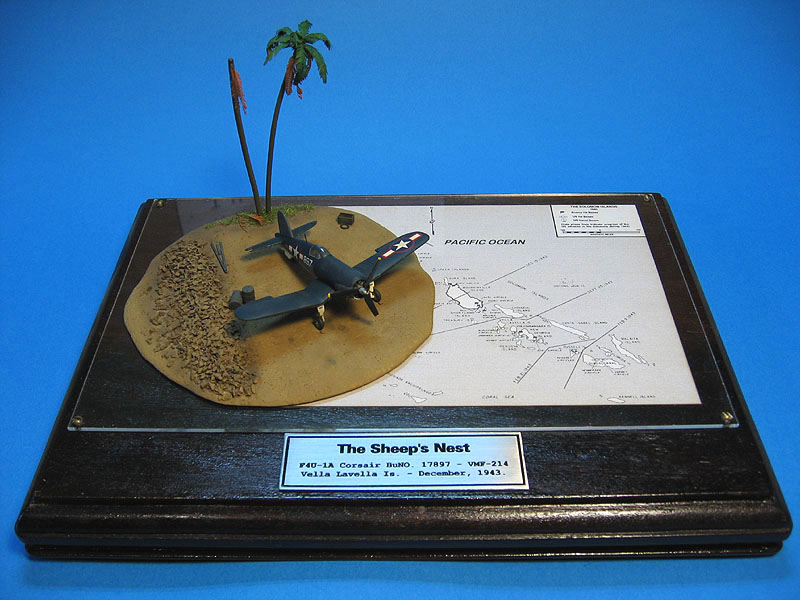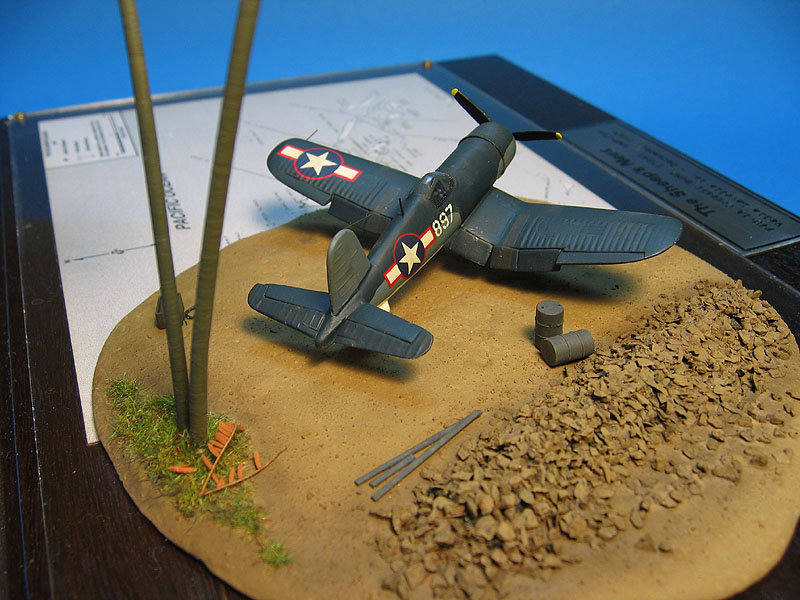 References
Nicholas A. Veronico, John M. Campbell and Donna Campbell: F4U Corsair - Combat, Development and Racing History of the Corsair, Motorbooks International, 1994.
Adam Jarski: F4U Corsair, A-J Press, 1998.
Vought F4U Corsair - Aero Detail 25, 1999.
Jim Sullivan: F4U Corsair in Action, Aircraft #29, Squadron Signal Publications, 1977.
Jim Sullivan: F4U Corsair in Action, Aircraft #145, Squadron Signal Publications, 1994.
Mark Styling: Corsair Aces of World War 2, Osprey Aircraft of the Aces #8, Osprey Publishing, 1995.
Bert Kinzey: F4U Corsair - Part 1, Detail & Scale vol. 55, Squadron Signal Publication, 1998.
Barrett Tillman: Vought F4U Corsair, Warbird-Tech Series, Vol. 4, Specialty Press, 1996.
Gregory "Pappy" Boyington: Baa Baa Black Sheep, Bantam Books, 1977.
Frank E. Walton: Once They Were Eagles - The Men of the Black Sheep Squadron, The University Press of Kentucky, 1986.
Bruce Gamble: The Black Sheep - The Definitive Account of Marine Fighting Squadron 214 in World War II, Presidio Press, 1998.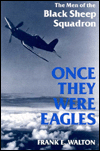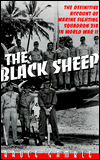 Technical file
Kit:

- Revell

#4098



Accessories:



Stolen parts:

- Main wheels:

resin copy of the Academy TBF Avenger in 1/144



Basic colors:

- Interior green: Model Master enamel FS 34151
- Intermediate blue: Model Master enamel FS 35164
- Non-specular sea blue: Model Master enamel FS 35042
- Non-specular white: can't remember
- Flat varnish:

Testors Dullcote




Notes:



- Scratchbuilt cockpit and flaps.

Rato Marczak
© 2007