Hobby Boss P-40B in 1/72
Start:

September / 2008
Finish:

March / 2012
The rights of this article were sold to Fine Scale Modeler magazine, published in September/2014 issue:



Here are a few photos: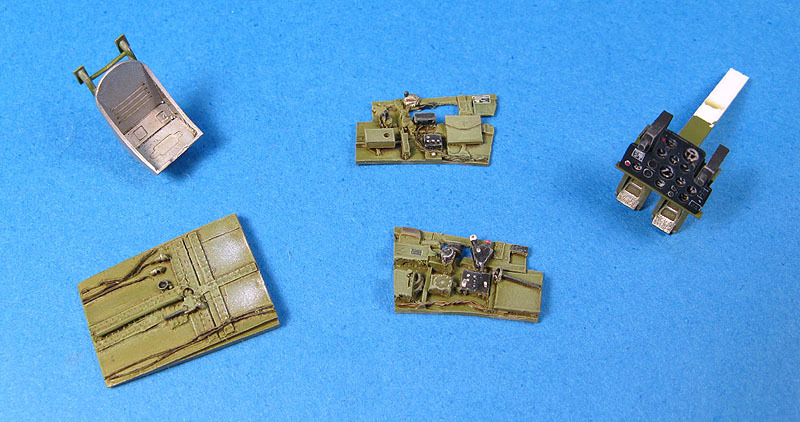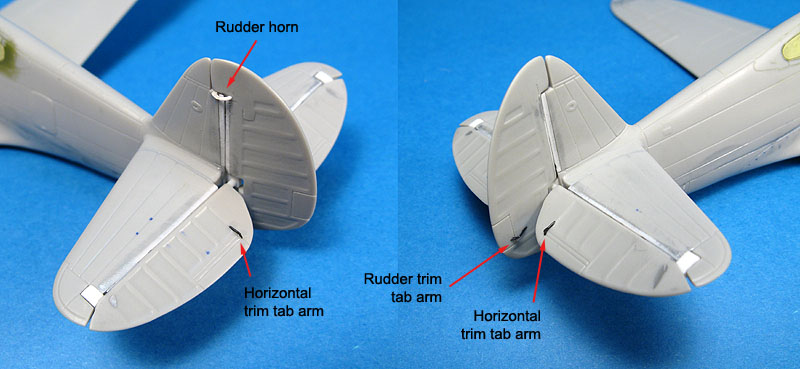 I wondered it was about time to choose the version I was going to model. After reading several books on the subject, I found Osprey's Aircraft of the Aces #41,

AVG Colours and Markings

[1], and Tom Tullis'

Tigers of China

[2] two mostly valuable books on the subject. At any rate, I was decided to model a bellied aircraft, so I narrowed my search to these two birds:


Tomahawk #74, Third Pursuit, wrecked in a training accident in late October/early November, 1941.


Tomahawk #6, First Pursuit, flown by Fl.Leader John Dean, and wrecked in a training accident by a chinese pilot, probably in early 1942.
Both aircraft have their share of interesting details. The two photos below show Tomahawk #74 in two different moments, right after having bellied on Kyadaw airfield, and after being moved to a boneyard, probably awaiting salvage (color photo), along with Tomahawk #81. In the later one RT Smith himself is inspecting another wreck. It is clear from these pics that this hawk didn't have its sharkmouth applied yet. It is also evident the fresh camouflage patch applied to hide the orignal numbering system, visible under the cockpit. The color photo seems to indicate the use of 'US equivalents' color system used on export aircraft for the British. The color photo also shows that this Tomahawk had its armament already removed, and only two of the propeler blades are bent.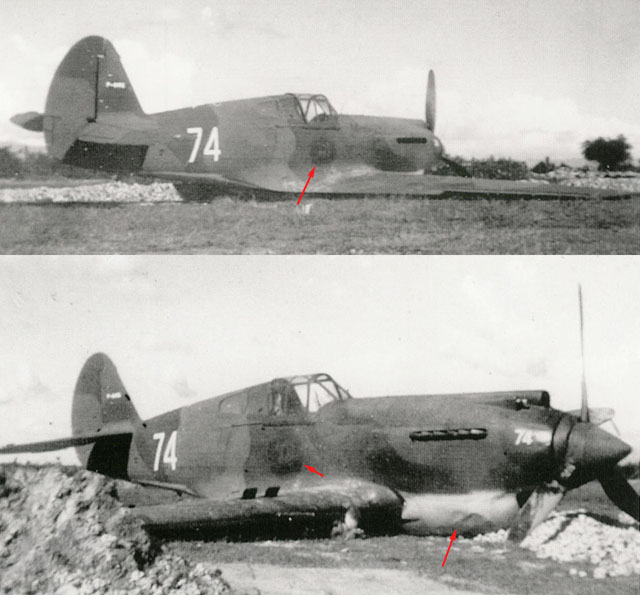 Tomahawk #6 shows a not so common rear view mirror, early style shark eye, a sharkmouth with small tongue, and what seems to be a curious shoulder harness (early Tomahawks had only lap belts). Tom Tullis also pointed out a camouflage mismatch at the wing root that I can't see in the photos (very common, though).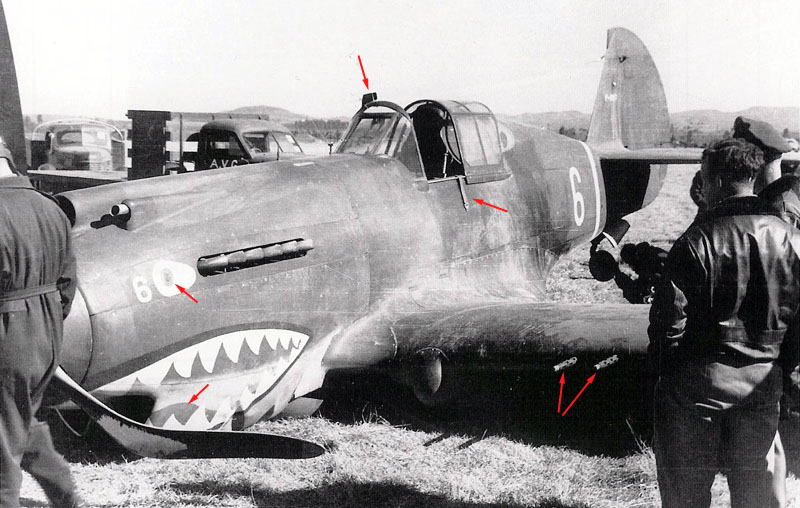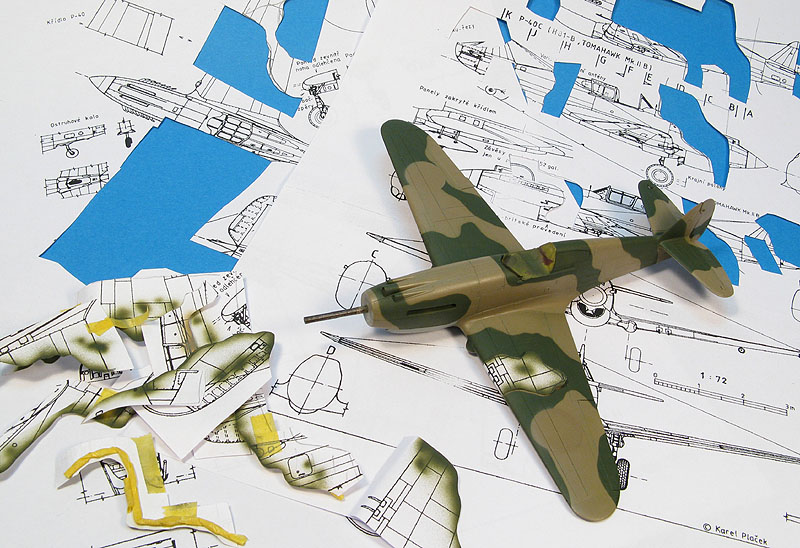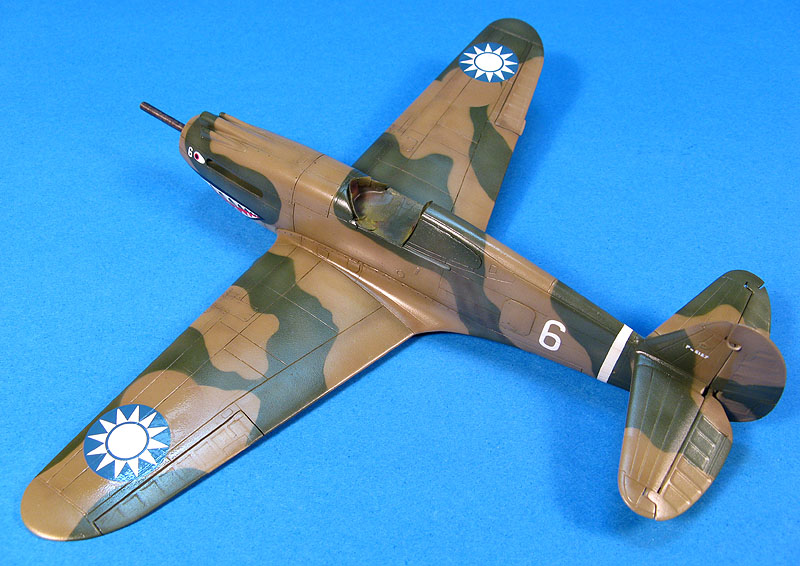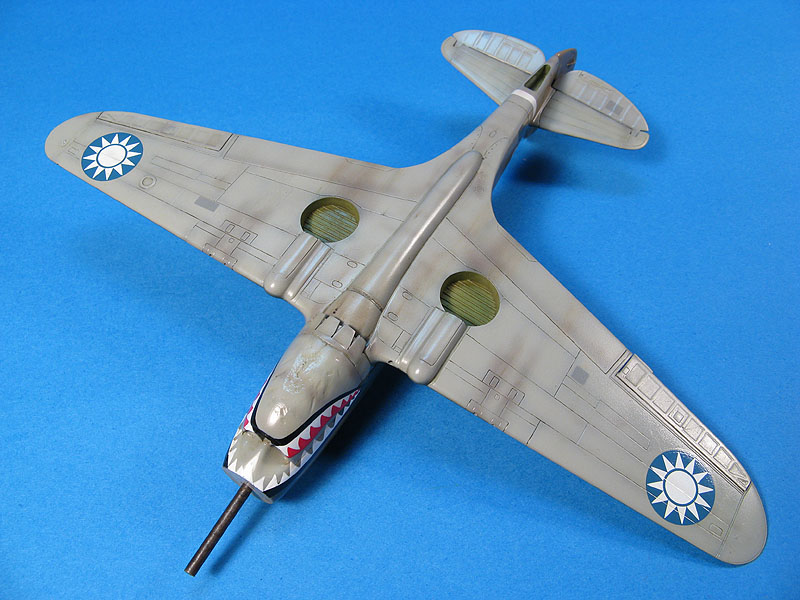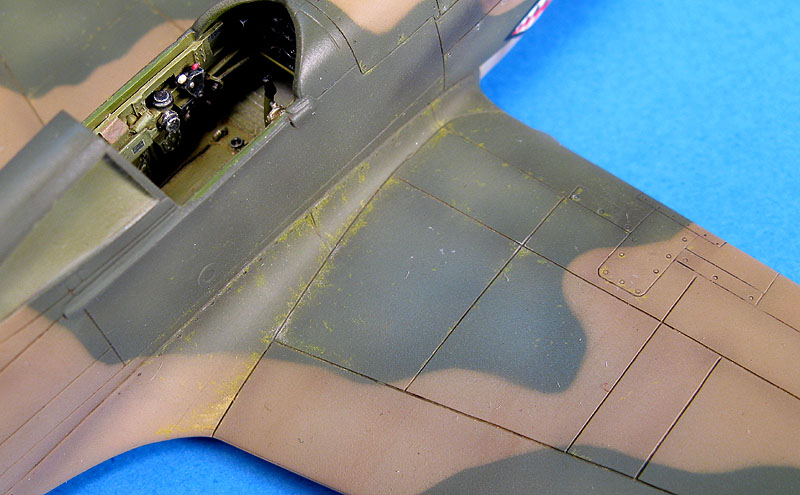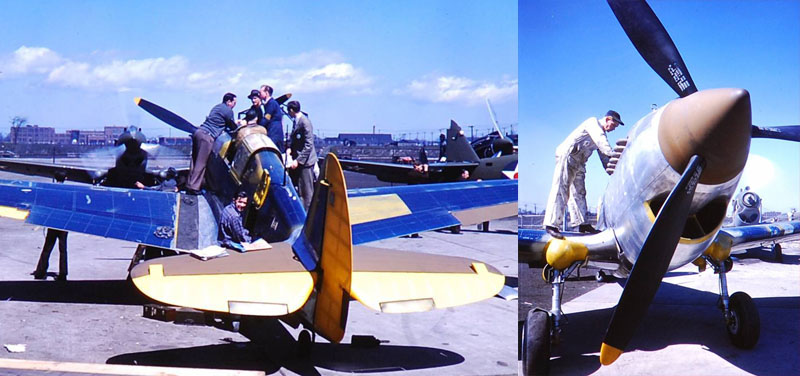 AVG hawks many times look terribly abused, but this is not always the case. Two documented examples are Tommy Haywood's #49 and R.T. Smith's #77, both very clean and with minor paint chipping. P-8187 seems to be somewhere in between: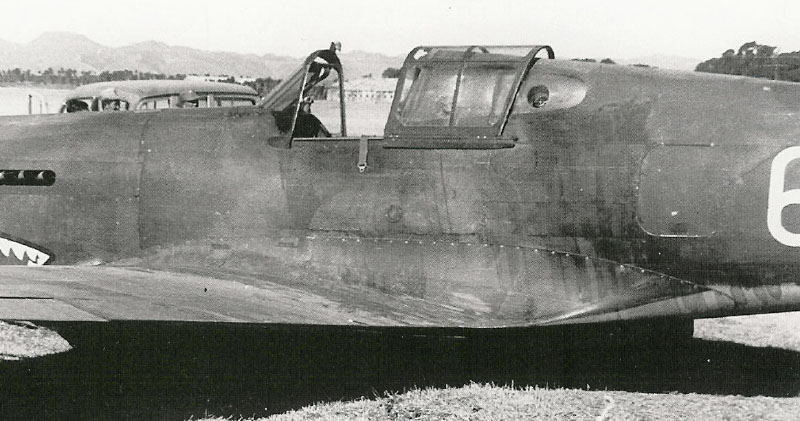 Another source of doubt is the anti-slip walkways on the wing roots. These were applied at factory (see photo above), and it seems to be present in P-8187, but the photo below is not conclusive.

It is worth to mention that apparently these walkways were either overpainted in field or removed. An example is show in the famous photo of #77 below: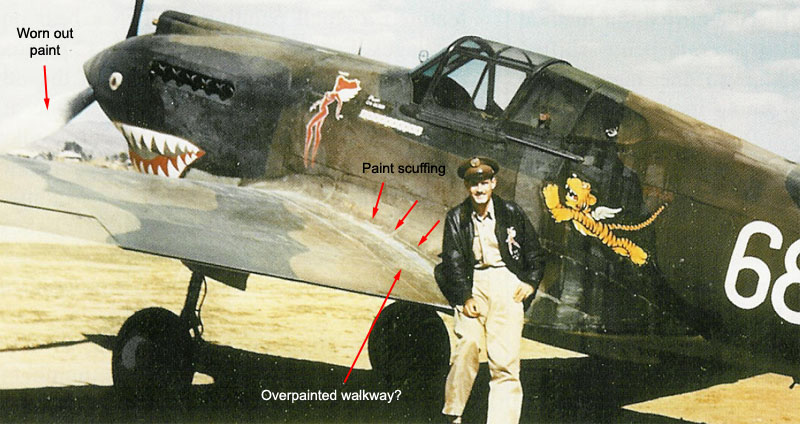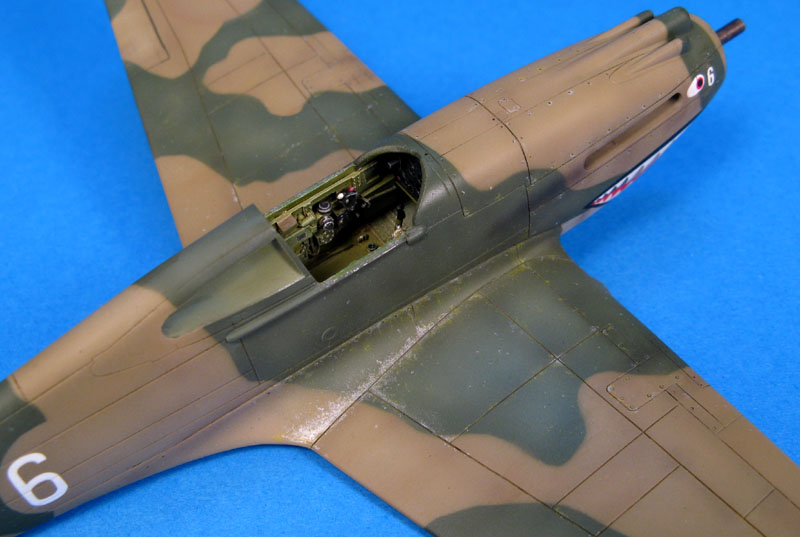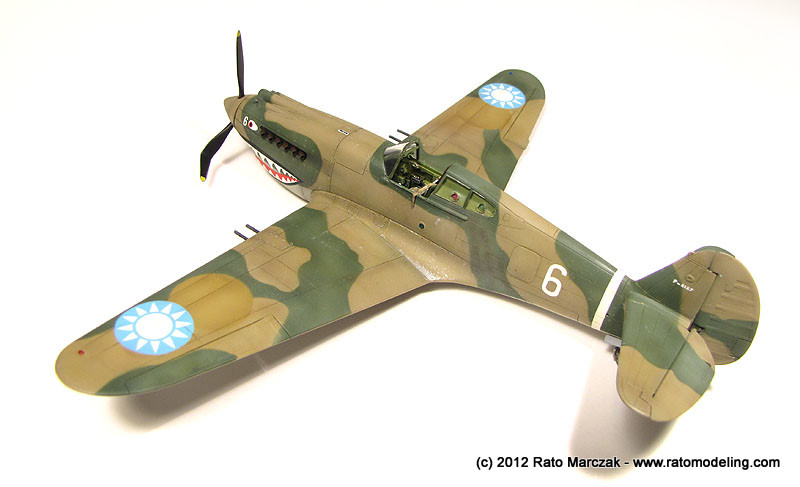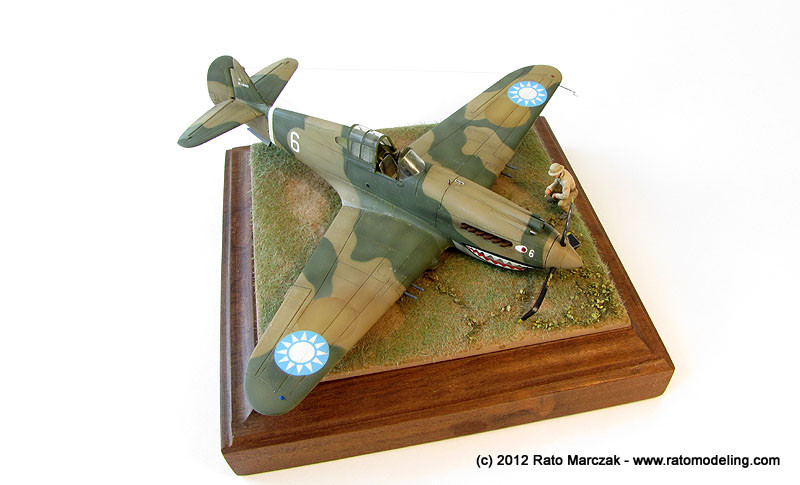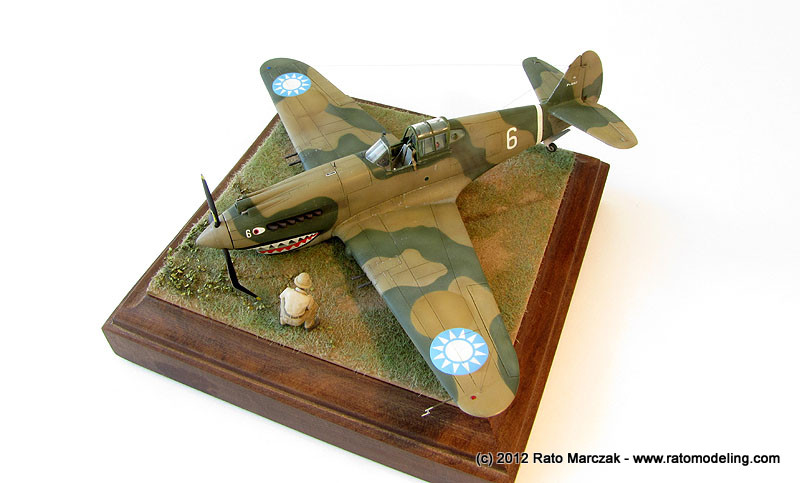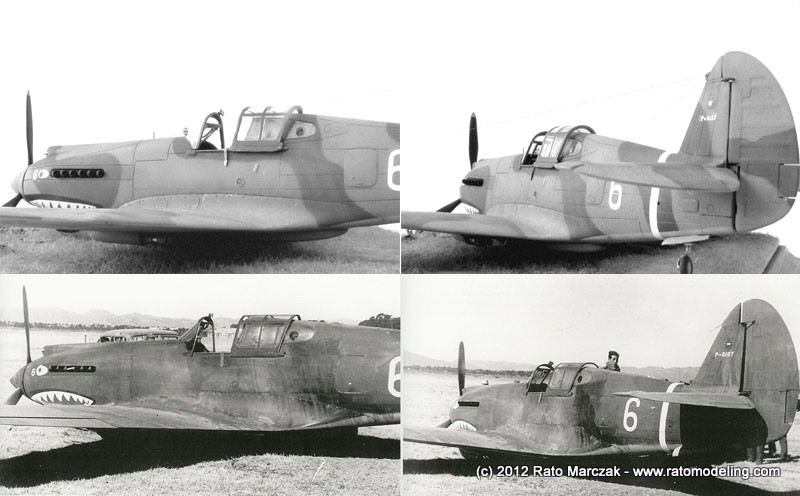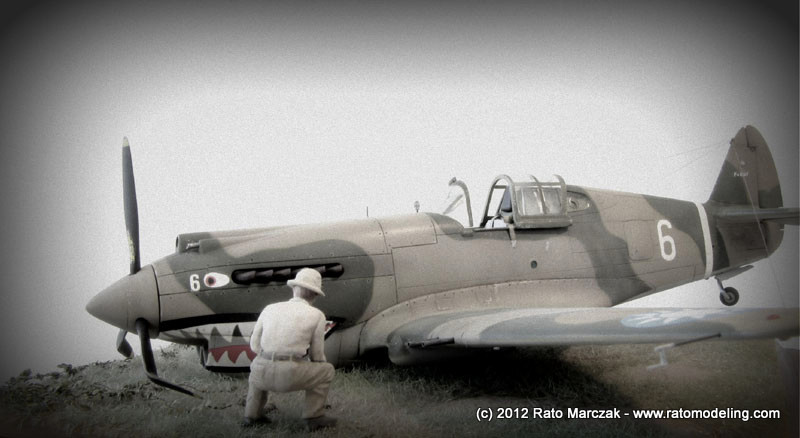 Technical file
Kit:

- Hobby Boss #80209
Additions:

- Resin copies of CMK interior for Academy's P-40N (#7021)

Basic colors:

- Primer: Fast drying automotive acrylic primer
- Interior Green:

Orion

automotive lacquer
- Flat Black:

Orion

automotive lacquer
- Flat finish: Testors Dullcote lacquer
- Gloss finish: Future floor wax and Model Master Metalizer Sealer
- DuPont 71-021 Sky Type S equivalent: Aerotech FS 36622 Light Gray.
- DuPont 71-009 Dark Earth equivalent: Tamiya acrylics (see article for the recipe).
- DuPont 71-013 Dark Green equivalent: Tamiya acrylics (see article for the recipe).


Notes:



- Scratchbuilt items: pilot's control panel, tail wheel unit, engine cooling flaps and other smaller items.

Rato Marczak
© 2012