Walkaround - Douglas A-20K S/N 6085
| | |
| --- | --- |
| What: | Walkaround - Douglas A-20K S/N 6085 |
| Where: | Brazilian Aerospace Museum, Rio de Janeiro, RJ, Brazil. |
| When: | October 5th, 2013. |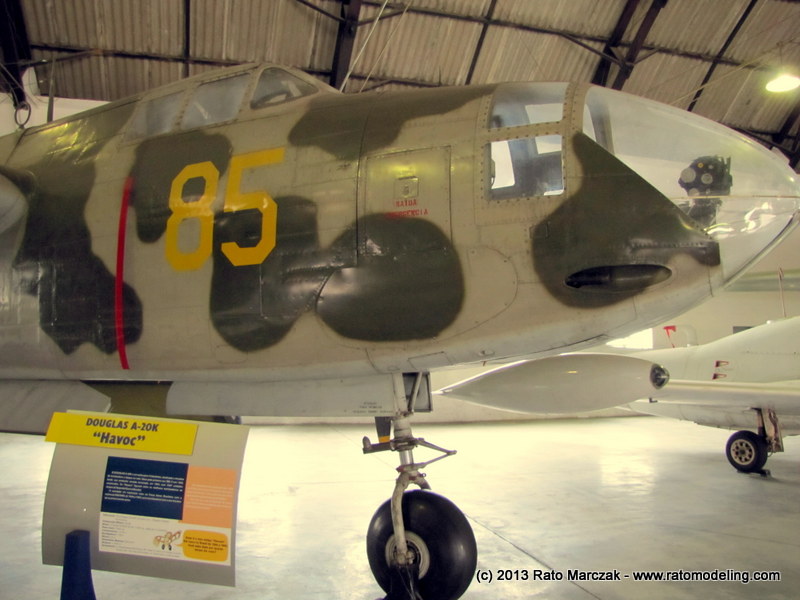 Here is a walkaround of one of the Douglas A-20K used by Brazilian Air Force (BAF) during 1940-50's. The A-20K is the glass nose reconnaissance version of the A-20J Havoc, equipped with better engines. The type was the last in the Havoc line, with the production ending by late 1944.

Loosely quoting Rudnei Cunhas's wonderful BAF's page, "...

the BAF received a total of 30 A-20K under lend-and-lease agreement, as well as a Boston III to be used in ground instructional role. These aircraft served from 1944 until 1955, initially with the 1st Light Bombing Group, based at Canoas, and the 2nd Light Bombing Group based at Cumbica. Both units merged to form the 1st Squadron / 10th Aviation Group in 1947. Brazilian A-20Ks were serialled 6061 to 6090, with the Boston III receiving serial 6091

".

During their final years, BAF A-20Ks were modified for photographic reconnaissance and re-designated R-20. In 1955, and in-flight accident with R-20 6062 forced the deactivation of the last four operational Havocs in Brazil.



The 6085 as currently displayed at MUSAL (Courtesy of
Rudnei Cunhas's History of the BAF's)

These photos were taken during a recent trip to the MUSAL - The Brazilian Aerospace Museum, where the 6085 rests in good condition..


---
---
I hope you find these photos useful somehow. If you have any interesting information about the history of this aircraft, please drop me a line.
Rato Marczak
© 2014