Walkaround
- Republic P-47N Thunderbolt S/N 44-89320
What:


Walkaround - Walkaround - Republic P-47N Thunderbolt S/N 44-89320



Where:

Air Force Armament Museum, Eglin Air Force Base, Eglin FL, USA
When:


November, 6th, 2019

.

This is a walkaround of the
Republic P-47N-25-RE, S/N 44-89320, displayed at the
U.S. Air Force Armament Museum, adjacent to Eglin AFB
.


The P-47N version of the Thunderbolt was the last version to be manufactured in quantity. It was a specialized long-range version built specifically for service in the Pacific theatre. However, the war in the Pacific required fighter ranges even greater than did operations over Germany. In pursuit of better long-range performance, in mid-1944 the third YP-47M prototype (42-27387) was fitted with a new "wet" wing of a slightly larger span and area. The aircraft was redesignated XP-47N. For the first time in the Thunderbolt series fuel was carried in the wings, a 93 US gallon tank being fitted in each wing.

The new wing also incorporated larger ailerons and squared-off wingtips. These innovations enhanced the roll-rate of the Thunderbolt and improved maneuverability. The dorsal fin behind the bubble canopy was somewhat larger than that on the P-47D. However, the increased fuel load increased the gross weight of the aircraft. In order to cope with the increased gross weight, the undercarriage of the XP-47N had to be strengthened, which increased the weight still further. The maximum weight rose to over 20,000 pounds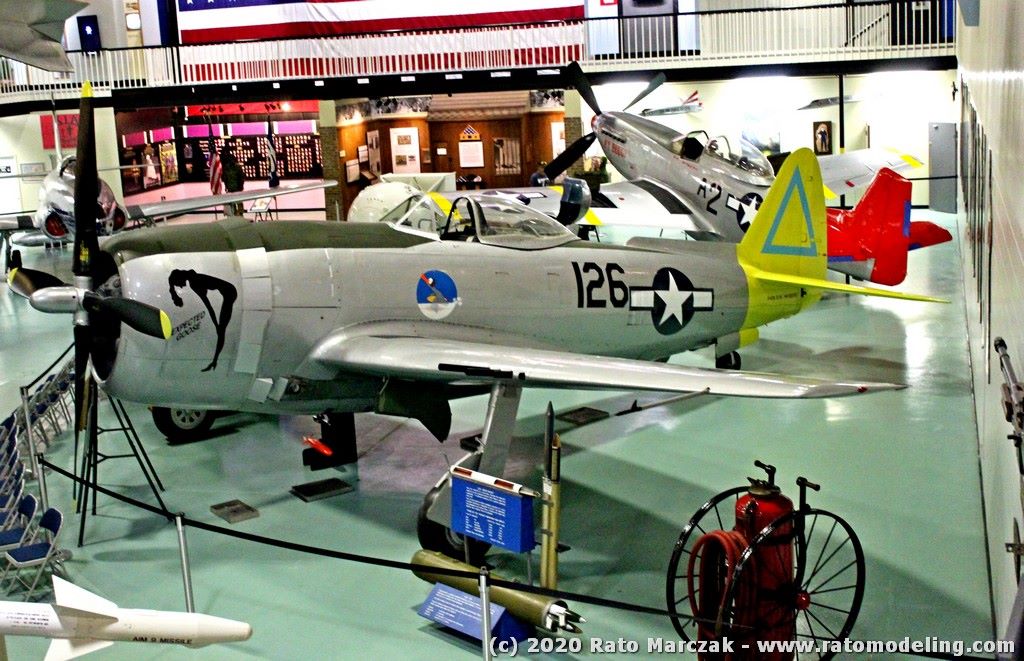 The XP-47N flew for the first time on July 22, 1944. The P-47N was destined to be the last version of the Thunderbolt to be manufactured. The first P-47N-1-RE appeared in September of 1944, and 24 were delivered by year's end. The P-47N-5-RE and subsequent batches had zero-length rocket launchers added. The R-2800-77 engine was installed in late production models such as the P-47N-25-RE.

The P-47N gave excellent service in the Pacific in the last year of the War, particularly in escorting B-29 Superfortress bombers in raids on the Japanese mainland. P-47Ns were able to escort the bombers all the way from Saipan to Japan and on many other long, overwater flights.

A total of 1667 P-47Ns was produced by the Farmingdale plant between December 1944 and December 1945, when the Thunderbolt line finally closed down. 149 more P-47Ns were built by the Evansville factory.

Serials of the P-47N were:

44-87784/88333 Republic P-47N-1-RE Thunderbolt

44-88334/88883 Republic P-47N-5-RE Thunderbolt

44-88884/89083 Republic P-47N-15-RE Thunderbolt

44-89084/89283 Republic P-47N-20-RE Thunderbolt

44-89284/89450 Republic P-47N-25-RE Thunderbolt

45-49975/50123 Republic P-47N-20-RA Thunderbolt
[Joe Baugher]



Manufacturer
Republic Aviation Co. (lastly Fairchild HIller)
Crew
1
Type
Single-seat long-range fighter or fighter-bomber.
Firs/last year of production
1944 / 1945
Production total
1816
Engines
One Pratt & Whitney R-2800-57/73/77 Double Wasp eighteen-cylinder radial air-cooled engine, with G.E. turbo supercharger located in rear fuselage
Engine rating
2088 MW (2,800 hp) in war emergency rating (water injection)
Propeller
Four-bladed Curtiss Electric constant speed full-feathering airscrew
Fuel capacity
Two self-sealing and armored fuel tanks in fuselage, the main tank (1022 l / 270 U.S. gallons) aft of the fireproof bulkhead, auxiliary tank (379 l / 100 U.S. gallons), beneath pilot's seat and one additional tank (352 l / 93 U.S, gallons) in each wing. When maximum external tankage was carried (four external fuel tanks), this brought the total fuel load of the P-47N up to 4792 l (1,266 U.S. gallons)
Maximum take-off weight
9389 kg (20700 lb) /

7394 kg (16,300 lb) with normal load

Empty weight
4990 kg (11000 lb)
Maximum speed
752 km/h (467 mph) @ 9754 m (32,500 ft)
Cruise speed
483 km/h (300 mph)
Range
1287 km (800 mi) without external tanks @ 3048 m (10000 ft) / 3782 km (2350 mi) with maximum external tankage.
Service ceiling
13106 m (43000 ft)
Climb rate
14.2 min to 7620 m (25000 ft) average. 844 m/min (

2770 ft/min) @ 1524 m (5000 feet). 777 m/min (2550 ft/min) @ 6096 m (20,000 feet

)
Length
11 m (36 ft 1 in)
Wingspan
12.98 (42 ft 7 in)
Height
4,47 (14 ft 8 in)
Wing area
29.9 m2 (322 ft2)
Wing
Republic S-3 wing section; aspect ratio 5.61; incidence +1°; dihedral (upper surface) 4°
Armament
8 x ,50 cal. machine-guns, four in each wing outboard of landing gear, 500 rpg
Bomb load
2 × 1,000 lb or
3 x 500 lb or
10 x 5 in. rockets under the wings
Price
$83,000 in 1945 U.S. dollars
This is a short walkaround I made during a visit to t
he U.S. Air Force Armament Museum, at Eglin on
nov/2019. This particular example was displayed at
Muniz Air Base, Puerto Rico, then restored at San Juan. It flew again on 20 September 1972. During 1970–1978 it was civil registered as N345GP, flown as 489320, coded 5A-2. Damaged, tipped on nose, propeller damaged, Myrtle Beach AFB, South Carolina, 10 June 1977. Still there in March 1979. Impounded by US Government due to breach of sale conditions.

It is currently marked as P-47N-5-RE, 44-88129, "Expected Goose",
of the 463rd Fighter Squadron, 507th Fighter Group while stationed at Ie Shima Island near Okinawa
in 1945. The unofficial emblem of the 463rd FS, a duck wearing a flight helmet with two P-47 underwing tanks, is painted on the fuselage under cockpit. It is in flyable condition.
---
---

I hope you find these photos useful somehow. If you have any interesting information about the history of this aircraft, please drop me a line.


Rato Marczak
© 2020