Walkaround
- Sd.Kfz. 171 Panzerkampfwagen Ausf. G -
Panther
late medium tank
What:


Walkaround - Sd.Kfz. 171 Panzerkampfwagen Ausf. G - Panther late medium tank



Where:

Bovington Tank Museum, UK
When:


November, 11th, 2017

.
The Panther medium tank is often considered the best German tank design of World War II. It was not heavily armored as other tanks of its time, resulting in a very fast and maneuverable combat vehicle. Armed with a long, high velocity and accurate 75 mm KwK42 gun, it was a formidable opponent for any allied tank. Its only flaw was a tendency to catch fire when the engine backfired.

The prototype was manufactured in September 1942, with production beginning in January 1943. The model G was the last main variant to enter mass production, replacing the model A during the spring of 1944.

This particular example - Fahrgestell number 129113 - is on display at the Bovington Tank Museum, UK, and it has an interesting story. It is part of a group of Panthers found partially assembled at the Maschinenfabrik Niedersachsen Hannover (M.N.H.) factory, Germany, right after the end of the war by the British Army REME (Corps of Royal Electrical and Mechanical Engineers). It was therefore completed under the supervision of the British by the German workers from MNH factory at the time of its capture.

Also, it is not so easy to identify the version, for as much as it features characteristics of a late model G (increased armor, one-piece side plate and hinged hatches in the hull.), in fact only its chassis is of a late model Panther, while the turret is from a recycled early Panther model (intel via Craig Moore). These tanks assembled after the war were tested in Britain and Germany and some people claim that it may have contributed to the design of the British Centurion.

Due to paint shortage at the time, the camouflage was hastily applied directly over the undercoat primer using whatever color was available at the factory. This camouflage scheme is authentic, however, as it is similar to the ones used on Panthers leaving the factory in the last months of the war. It was seen on Panthers of 5th Battalion, 25th Panzer Grenadier Division on the Eastern Front in February 1945.

This example was photographed by your editor during a visit to the Bovington Tank Museum, November 2017. The museum reference is E1949.338.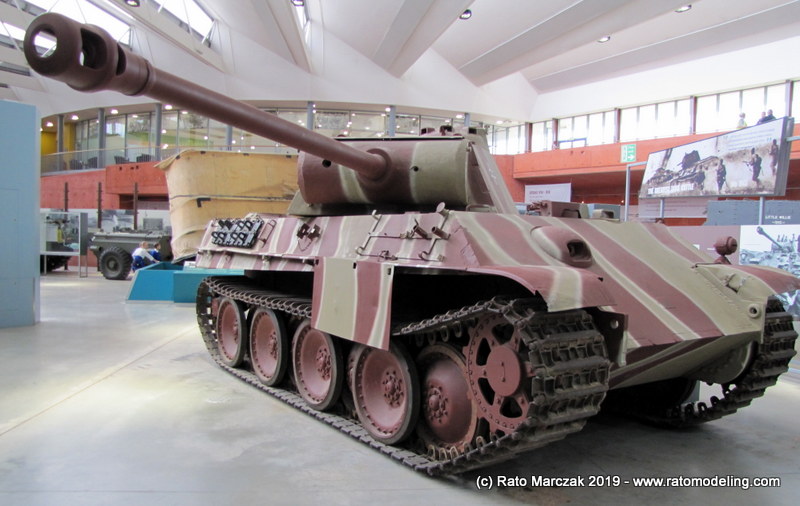 Much of the German success against Allied tanks is due to the Panther. The Panzer IV was not so well armed and protected and the famous Tiger was slow and prone to problems. This photo section made me think if the best British tank of World War II was actually German... Ok, ok, just joking.
Specifications
| | | |
| --- | --- | --- |
| Manufacturer | | Maschinenfabrik Niedersachsen Hannover (M.N.H.) |
| Main weapon type | | Gun - 75 mm Gun KwK42 L/70 |
| Secondary weapon type | | 2 x MG34 7.92 mm Machine Guns |
| Engine | | Maybach HL230 P30, V-12, 23 litre, 700 bhp, water cooled |
| Transmission | | 7 Forward, 1 Reverse |
| Suspension | | Torsion bar |
| Power to weight ratio | | 15.6 bhp/ton |
| Crew | | 5 |
| Weight (total) | | 45.5 ton |
| Maximum speed (road) | | 55 km/h |
| Fuel | | Petrol |
| Maximum armour thickness (hull) | | 80 mm |
| Engine power output | | 700 bhp |
| Fuel capacity | | 158 gal |
| Fuel consumption | | 1.0 mi/gal (0.35 km/l) |
| Range | | 200 km |
| Projectile load | | 81 rounds |
| Length (overall - gun forward) | | 8.86 m |
| Width | | 4.4 m |
| Height | | 2.98 m |
---
---
Regardless you are interested in this historic piece of warfare or want to build a scale model,
I hope you find these photos useful somehow.
If you have any interesting information about the history of this artifact, please drop me a line.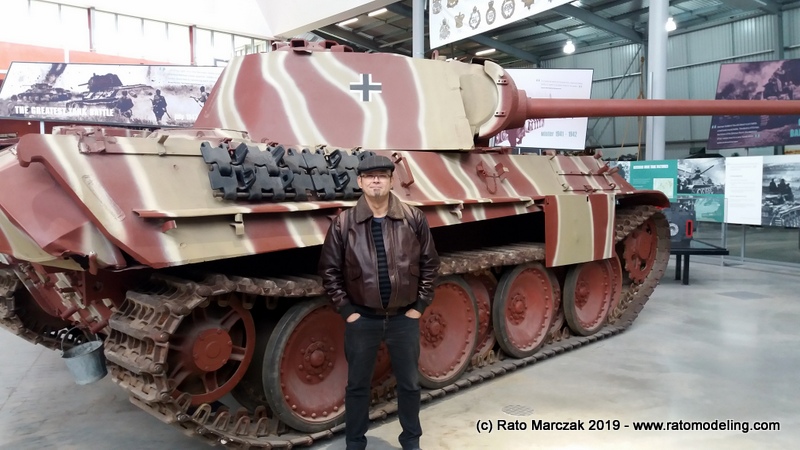 No, I don't know whether the bucket is original or not...
Rato Marczak
© 2019