Walkaround
- Douglas SBD-2 Dauntless Bu.02106
What:


Walkaround - Douglas SBD-2 Dauntless Bu.02106



Where:

National Naval Aviation Museum, Penacola FL, USA
When:


November, 3-5, 2019

.

In the trail of the Hollywood regrettable movie recently released, let's act more serious and present the walkaround of the only surviving aircraft of the famous Battle of Midway. That is correct! The Douglas SBD-2 BuNo 02106 on display at the National Naval Aviation Museum is a survivor of the attack on Pearl Harbor and participated in dive bombing runs against a Japanese carrier during the pivotal Battle of Midway, making it one of the most historic aircraft in existence [NNAM].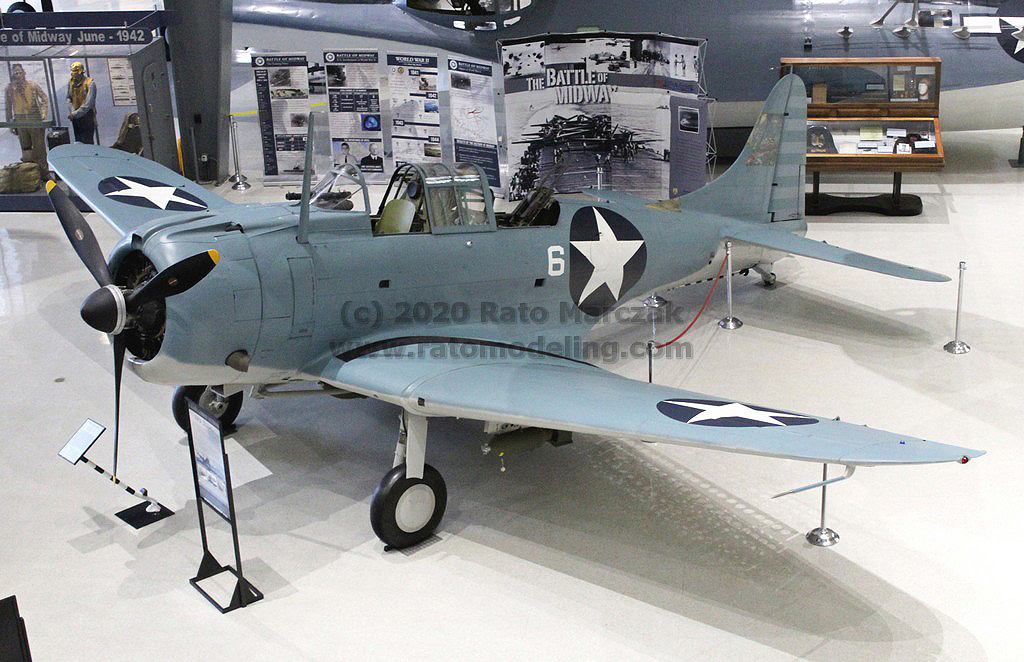 BuNo 2106 was built by Douglas at El Segundo plant, under constructors number 632 in December 1940 and assigned to the United States Navy to VB-2 at Naval Air Station (NAS) San Diego, California, on the last day of 1940.

During 1941 it logged hours flying from the deck of the aircraft carrier USS Lexington (CV-2) and participated in the 'Louisiana Maneuvers' which caused substantial wear to the engine, necessitating replacement. During the first week of December, 1941 with Lexington earmarked to deliver aircraft of a Marine scout bombing squadron to Midway Atoll, the 2106 was off-loaded from the carrier to make room for the additional aircraft and left at Pearl Harbor when "Lady Lex" put to sea. Thus, on the morning of 7 December 1941, it was parked at Luke Field on Ford Island in the middle of Pearl Harbor when the Japanese attacked. Put back aboard Lexington when she returned to Pearl, the aircraft embarked in the carrier to the South Pacific. On 10 March 1942, flown by Lieutenant (jg) Mark T. Whittier with Aviation Radioman 2nd Class Forest G. Stanley as his gunner, the aircraft joined 103 other planes from Lexington and Yorktown (CV-5) in a raid against Japanese shipping at Lae and Salamaua in New Guinea. Credited with pressing home his attack against a Japanese ship, Whittier received the Navy Cross.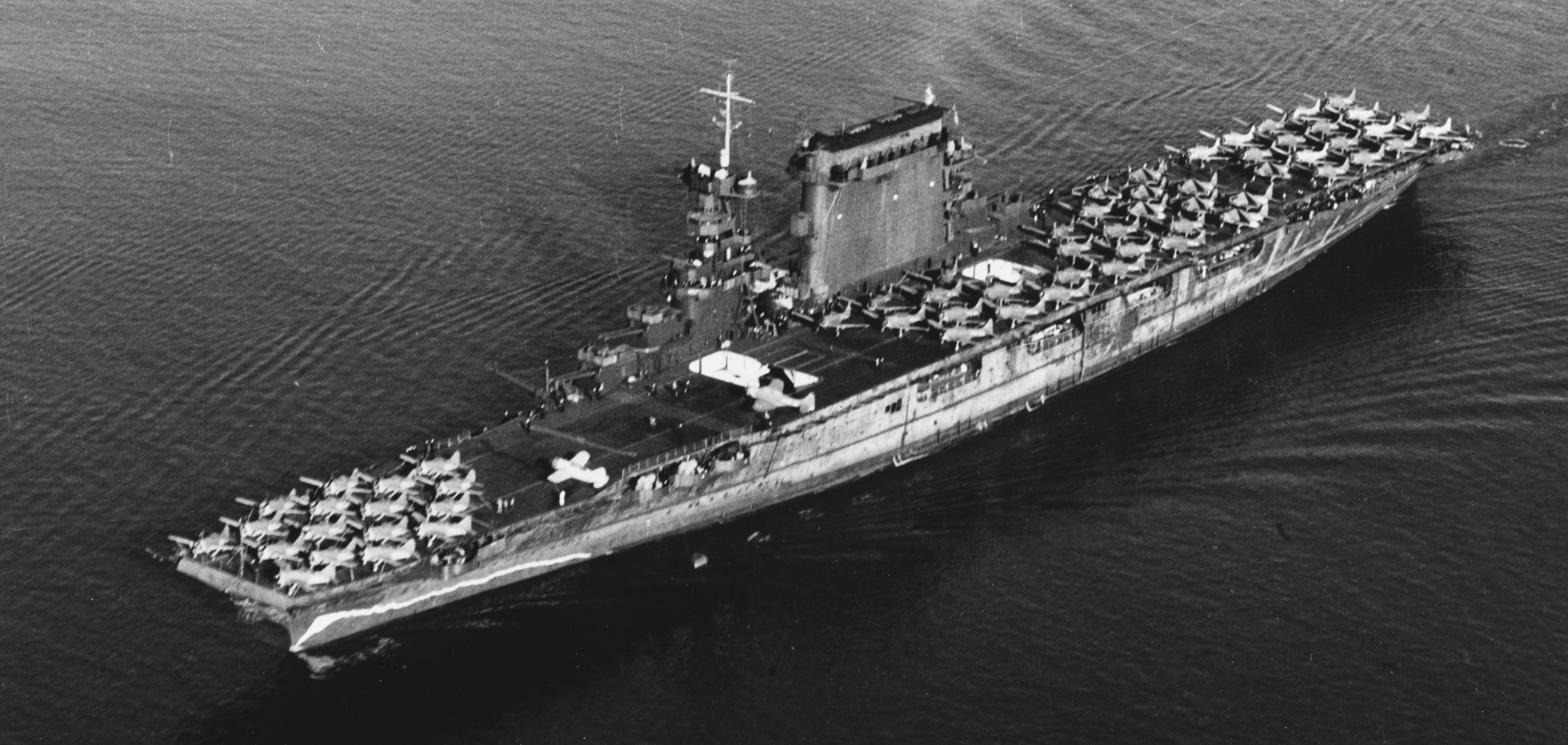 USS Lexington (CV-2) leaving San Diego, California (USA), on 14 October 1941.
Planes parked on her flight deck include Brewster F2A-1 fighters (parked forward), Douglas SBD scout-bombers (amidships) and Douglas TBD-1 torpedo planes (aft). BuNo 2106 may well be one of the SBDs.
Note the false bow wave painted on her hull, forward, and badly chalked condition of the hull's camouflage paint.
[image: commons.wikipedia.org]

When Lexington returned to Pearl Harbor following the raid, the museum's SBD-2 was again put ashore and earmarked for transfer to Marine Scout Bombing Squadron (VMSB) 241 on Midway Atoll, arriving there with eighteen other SBD-2s on 26 May 1942, on board the aircraft transport Kitty Hawk (APV-1).

On the morning of 4 June 1942, with 1st Lieutenant Daniel Iverson as pilot and Private First Class Wallace Reid manning the .30-caliber machine gun in the aft cockpit, the museum's aircraft was one of sixteen SBD-2s of VMSB-241 launched to attack Japanese aircraft carriers to the west of Midway. Approaching the enemy carrier Hiryu, the Marine planes came under fire from antiaircraft gunners and fighters of the enemy combat air patrol. Iverson, with two Japanese Zero fighters following him down in his dive, released his bomb at an altitude of 800 feet. During his egress from the target area, the Zeroes on Iverson's tail were joined by two others, which pursued the Dauntless for miles. Enemy fire holed Iverson's plane 219 times, knocking out his hydraulic system and wounding Reid. One bullet came so close that it clipped Iverson's throat microphone cord. Nevertheless, the pilot managed to return to Midway, making a one-wheel landing on the atoll. His was one of only eight SBD-2s of VMSB-241 to return from the attack against the Japanese fleet. For their actions, Iverson received the Navy Cross and Reid was awarded the Distinguished Flying Cross [Naval History & Heritage Command].

Returned to the United States, the SBD-2 was repaired and eventually assigned to the Carrier Qualification Training Unit (CQTU) at NAS Glenview, Illinois. On the morning of 11 June 1943, with Marine 2nd Lieutenant Donald A. Douglas Jr. at the controls, the aircraft ditched in the waters of Lake Michigan during an errant approach to the training carrier Sable (IX 81). Douglas was retrieved from the water by a Coast Guard rescue boat, but his aircraft sank to the bottom of the lake, where it remained until 1994, when she was raised to the surface and restored.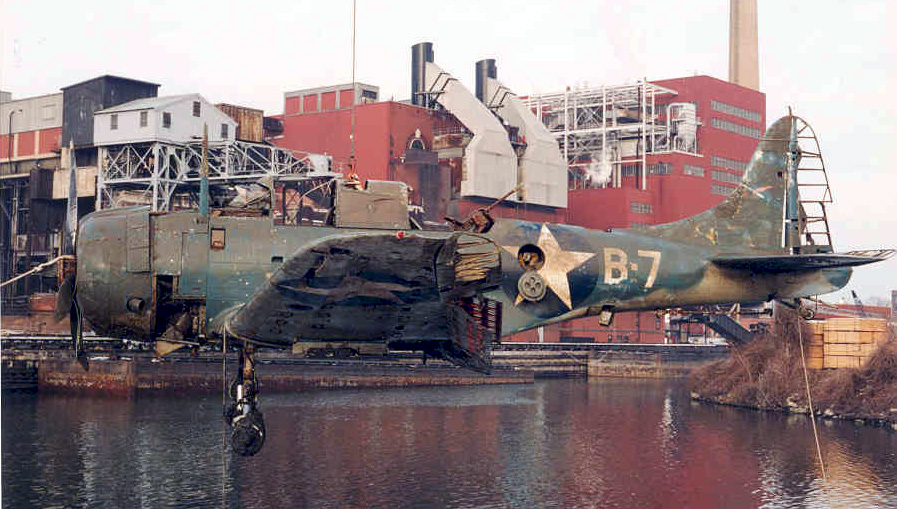 BuNo 2106 salvage from Lake Michigan [ image: commons.wikipedia.org]


After recovered from Lake Michigan, she was transported to the NNAM. The restoration took 70,000 hours by over a hundred staff and volunteers to static display. Over 90% of the aircraft is original period parts from other aircraft.

It is interesting to note that the museum has left visible elements of the original paint scheme of the starbord wing
and fin
(when aboard USS Lexington in the pre-war, as 'Yellow Wing' scheme).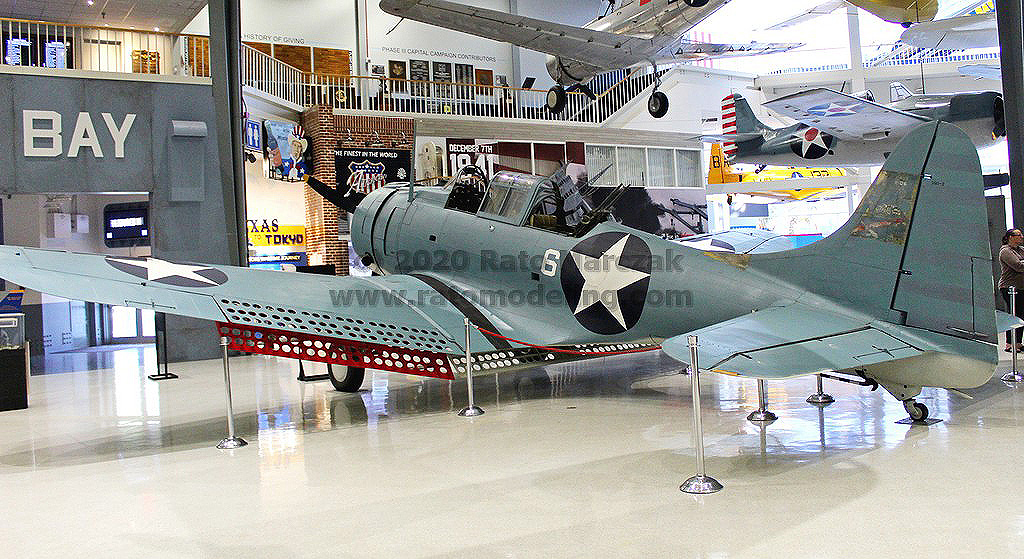 This SBD-2 therefore survived the attack at Pearl Harbor and two combat missions, being one of the the famous Battle of Midway, making it one of the most historic aircraft in existence in the world. Not only that, the -2 had a production run of only 87 aircraft (only the SBD-1 was less produced: 57), adding to its rarity. There is only one other SBD-2 in existence, BuNo 2173, on display at the Pacific Aviation Museum at Ford Island, Hawaii.

Another interesting artifact next to the NNAM's SBD-2 is the original Mae West of Ens. George Gay... He sank at Midway Battle after having his Douglas Devastator shot down by the Japanese fighters. This is the Mae West he used when flying F4F Wildcats later on. Some historians claim that he painted his Mae West a dark color, possibly because he was more worried about being picked up by the Japanese than he was worried about being rescued in case he was shot down again: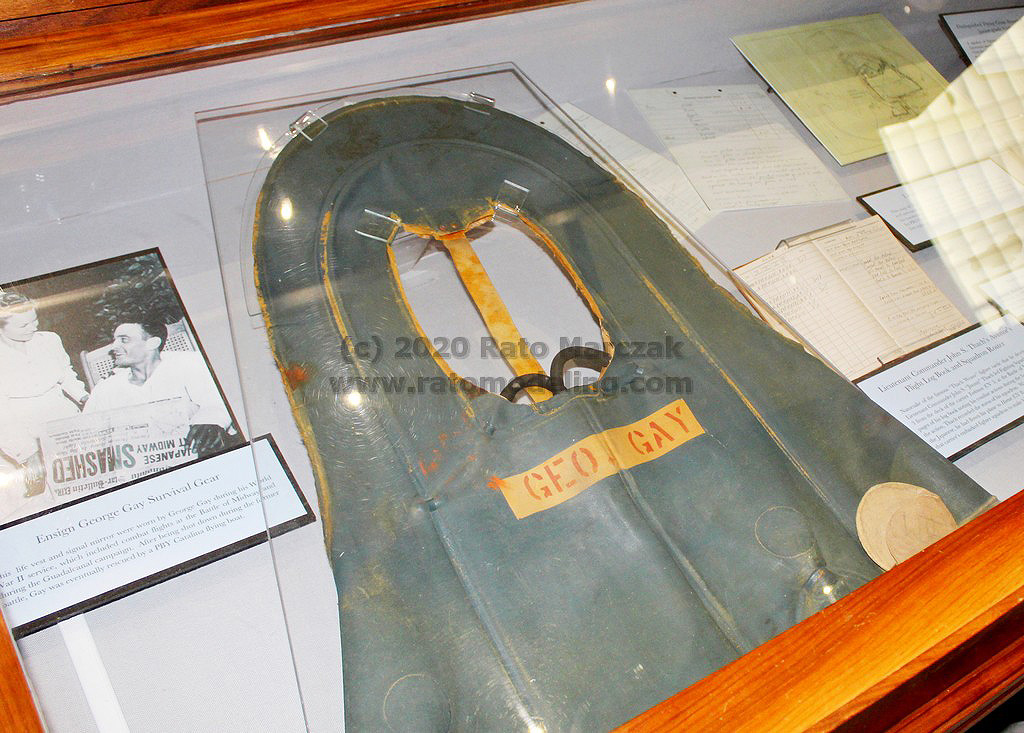 Specifications
(SBD-2)
Manufacturer
Douglas Aircraft Corporation
Crew
2
Type
Scout plane / Dive bomber
First year of production
1940 (first flight: Jan 5, 1940)
Production total
5937 (all versions)
Engine
1 × Wright R-1820-32 Cyclone 9-cylinder air-cooled radial piston engine
Engine rating
740 kW (1000 hp)
Propellers
3-bladed Hamilton-Standard constant-speed propeller
Maximum take-off weight
4699 kg (10360 lb)
Empty weight
2905 kg (6404 lb)
Maximum speed
412 km/h (251 mph) @ 4300 m (14000 ft)
Cruise speed
238 km/h (145 mph)
Range
2220 km (1380 mi)
Fuel capacity
980 l (260 US gal / 220 imp gal) in non-metallic self-sealing fuel tanks
Service ceiling
8310 m (27260 ft)
Climb rate
329 m/min (1079 ft/min)
Length
9.80 m (32 ft 1 in)
Wingspan
12.66 m (39 ft 4 in))
Height
4.14 m (13 ft 7 in)
Wing area
30.19 m2 (325 sq ft)
Airfoil
root: NACA 2415 / tip: NACA 2407
Wing loading
141 kg/m2 (28.8 lb/sq ft)
Power/mass
0.210 kW/kg (0.128 hp/lb)
Armament
2×7.62 mm (0.3 pol) forward-firing synchronized Browning M2 machine guns in engine cowling
1×12.7 mm (0.5 pol) flexible-mounted Browning machine gun in rear
1×454 kg (1000 lb) bomb
2×45 kg (100 lb) bombs
This is a walkaround I made during a 3-days visit to t
he
National Naval Aviation Museum
, at Pensacola in
nov/2019.
---
General views:
---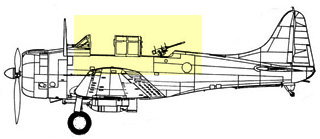 ---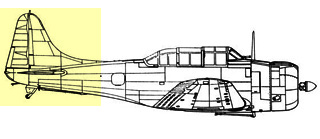 ---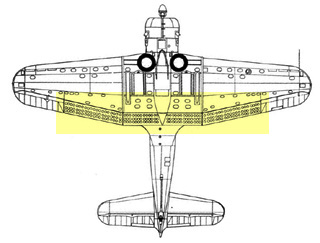 ---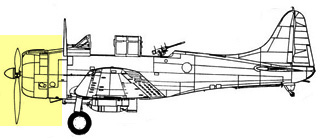 ---

---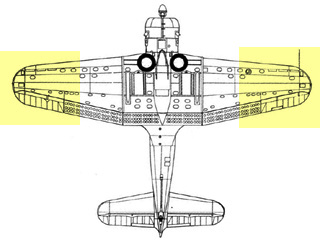 ---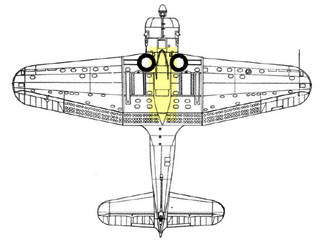 ---
---
And by the way, I watched the movie on the same day I shot these photos.


I hope you find these photos useful somehow. If you have any interesting information about the history of this aircraft, please drop me a line.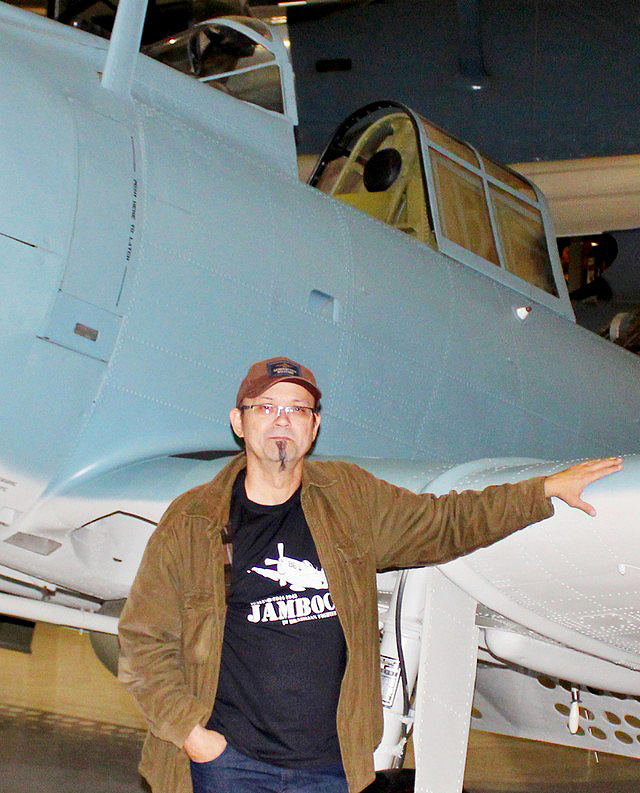 Yours truly and the Bu.02106 in nov/2019.
Rato Marczak
© 2020