Walkaround -
Chance Vought F4U-1A Corsair Bu.17995

All photos copyright by Rato Marczak unless noted.
What:


Chance Vought F4U-1A Corsair c/n 4078 Bu.17995



Where:

Museu Asas de um Sonho (

Wings of a Dream Museum

) at São Carlos, Brazil.

When:

June 2nd, 2007.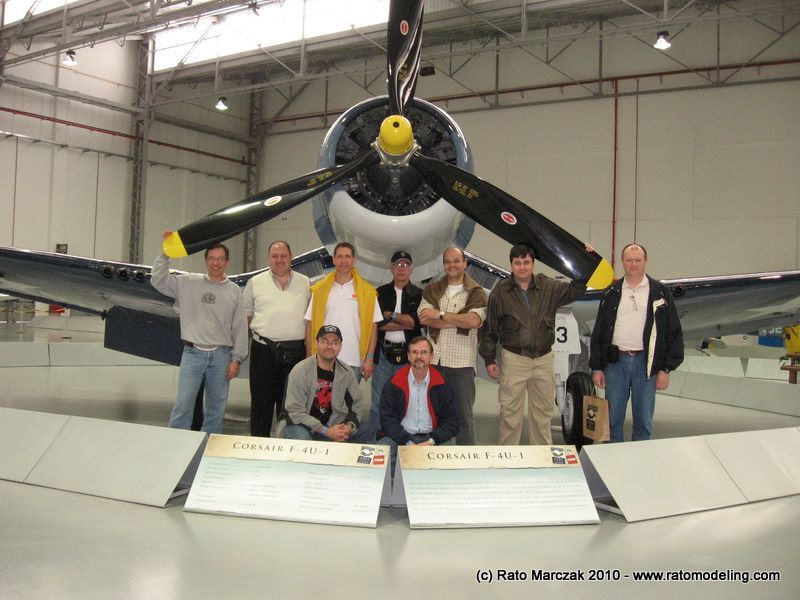 Your editor (kneeling, left side) and the Southern Modelers Express Machine



Here is a walkaround I promised a long time ago. This is the Corsair on display at Asas de um Sonho museum, near São Carlos in Brazil. The museum belongs to TAM airlines which has an ever growing fine collection of airplanes on display, including Spitfire, Messerschmitt, Thunderbolt and this Corsair, to name a few favorites of mine. But before proceeding to the photos, let me make straight some facts about this particular warbird.

This is a Chance Vought F4U-1A Corsair c/n 4078 Bu.17995. Therefore, it is not a Goodyear of a Brewster as published elsewhere. Now if you check the bureau number, you will see that it should really be a dash-A, and not a birdcage Corsair.

This aircraft served during the war in VMF-441 and crashed on March 26 1944 (pilot: Capt. L. E. Midkiff). The aircraft was displayed as a war memorial in Provo, UT during 1944-1950, and remained as a derelict in a railroad yard in that town until 1967. Jim Sullivan, famous author and Corsair fan, found some photos of 17995 during its rest at Provo in October 1967. The photos were taken by M/Sgt Walter F. Gemeinhardt USMC (Ret.), and Jim digitalized and corrected the originals. Thanks Jim and Walter. You rock!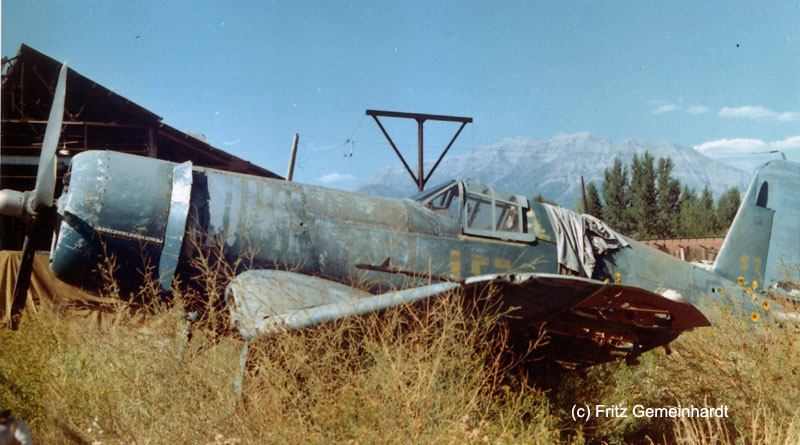 As you can see, the retro-conversion was not yet done (there's no rear windows), but the greenhouse canopy is just resting in place so someone already had the idea.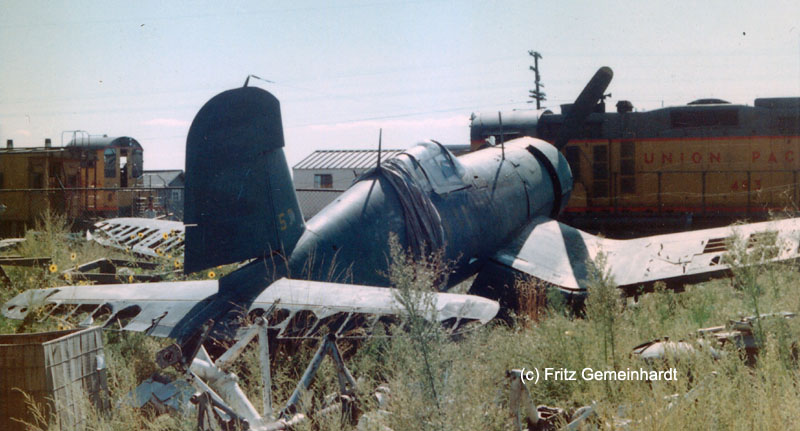 It then was owned by Harry S. Doan, Daytona Beach, FL, circa 1967-1982 and by Doan Helicopters, Daytona Beach, FL, during 1982-1989.

The aircraft was registered as N90285 and extensively rebuilt from 1965-1982. It has its first flight on March 1982, at Daytona Beach, FL and later suffered a forced landing in mudflats, New Smyrna Beach, FL, on May 8, 1983. Then another rebuilt during 1984-1989, New Smyrna Beach, FL and another first flight on March 11, 1989. After the third rebuilt it was owned by Roy M. Stafford, Jacksonville, FL during 1989 and by Don Knapp/D.K. Precision, Fort Lauderdale, FL, during 1989-1990.

I cannot, however, tell when this Corsair had its birdcage canopy adapted. It was probably during 1981-82 timeframe (see text below -

any further information on this matter would be greatly appreciated

). Jim Sullivan told me that he also doesn't know when the retro conversion was made, but he has '

a strong suspicion that it happened while in the possession of Harry Doan

(sic)'. To prove his point, Jim provided another important link of the history - the photo below shows the 17995 in Harry Doan's hangar in March 1988: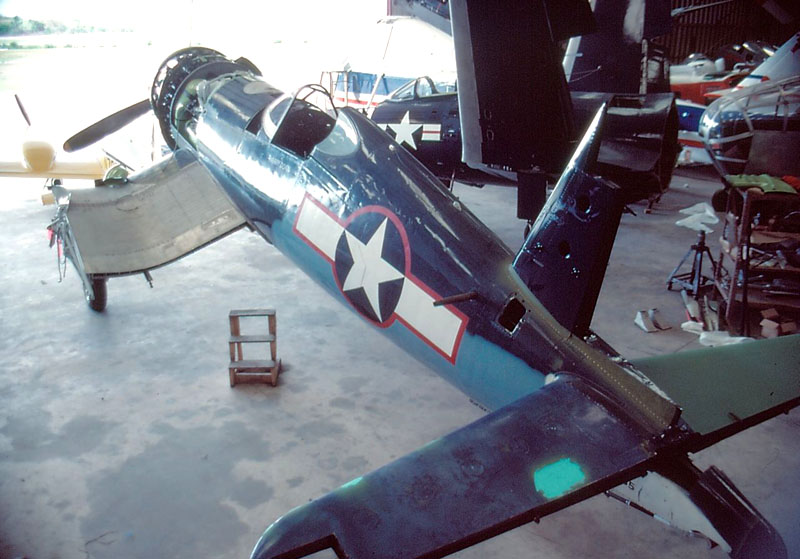 The aircraft was then handed to
Tim Wallis from the Alpine Fighter Collection, Wanaka, New Zealand where it starred during 1990-1999. It was registered as ZK-FUI and flew for the first time in NZ, on October 20, 1991, as RNZAF/NZ5201: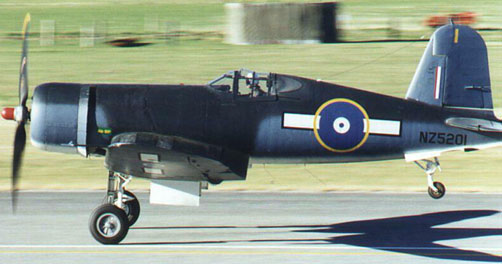 The aircraft was acquired by Pratt & Whitney Aircraft, Stratford, CT, in 1999 and repainted in the colors of VF-17's 17-F-13 during its 1943 shakedown cruise onboard USS Bunker Hill (CV-17). Strangely, the bureau number painted on the fin (

56432)

is also of a F4U-1A. Finally, it was negotiated with TAM afterwards and brought to Brazil in 1999, being on display on Wings of Dream Museum since 2004.

Therefore, two indisputable facts about this warbird:


But it remained to be explained:


The first was answered by two read readers. Tom Lund from Milwaukee, Harry Doan's sheetmetal mechanic himself wrote:



"...I worked on Bu # 17995 in 1980 to 1982 when I worked for Harry Doan as a sheetmetal mechanic. I helped another sheetmetal man named Joe to convert the birdcage canopy. Harry found a wreck in a Florida swamp and cut the center section out and hauled it back to Daytona with one of his helicopters (S-58). We drilled the birdcage canopy section off the wreck, cleaned and repaired it and installed it on 17995. This was all done in Harry's back yard hanger in South Daytona before he built the new hanger in New Smyrna Beach. 17995 was towed from Harry's place to Daytona Regional Airport at night on public roads. It was first flown from Daytona Regional Airport and was quite a sight. My memory is getting foggy on all this and I can only remember a couple names from his crew. Ralph Nicholas (?) was the shop chief (Korea Vet and engine man) and Harold Buckingham (Buck) was his sheetmetal man for many years and did most of the sheetmatal work on 17995. Buck's health was failing so Harry hired me (part time student) then another former USAF sheetmetal man named John (fulltime). We worked at his South Daytona (Big Tree Rd) shop then the new hanger in New Smyrna Beach on Corsair, TBM, Sikorski Helicopters and a B-25.

Buck died in 1982 and he was a good old time classic. Great guy..





...when we installed the aft upper cockpit assy the rivet holes lined up very well which says a lot about the quality of construction.

I think this all was done in 1981.

This was long before digital and computer control. It relied on individual craftsmanship. When the first engine proving runs were done the airplane was still at Harry's backyard hanger which was on a very large lot in a residential area in South Daytona. The aircraft was chained down to a concrete slab in front of his workshop and rattled the place when it was at 100% power. Wonder what the neighbors thought? I was there for the first flight at Daytona Intl Airport. What a great sight! What a great time!





...I just remembered another of the crew. Leonard Grasso did his paint jobs. He lived out in Deland and was a WWII vet who trained WAFS to fly so they could deliver airplanes to Europe. Leonard was also a nice guy and he flew nearly every fighter type of WWII. These old vets have been around and have some good stories. Leonard preferred the Wildcat.





...Harry also had a B-25, another F4U in pieces, a TBM and several Sikorski H-34's for parts and being modded. The B-25 was done for him by Tom Reilly of Kissimmee. I was on it for it's first high speed taxi at Daytona Regional when it briefly lifted off the runway. "





Another interesting contribution was sent by Louis Gardner, who recalls:





"...I grew up in Daytona Beach FL., and knew Harry Doan, who was one of the previous owners of this Corsair. I was a teenager when they were restoring this Corsair during the 70's. My Dad would drive me over to the hangar so that I could see "my" Corsairs. Harry had 2 other Corsairs in the hangar when his shop was located in South Daytona off Big Tree Road. One was a very rare F2G-1 "Super Corsair" (bureau number 88458), and the other one was an F4U-4B with 4 20 MM wing cannons. I remember how the plane was wrecked in 1983. My Dad sent me the newspaper article when I was in basic training, because I had just joined the Army. The article stated that Harry lost the brakes on landing and ran off the end of the run way, ending upside down in the mud flats which surround the end of one runway. The plane broke in half just behind the cockpit, and there was considerable damage to the vertical fin and rudder. This started the 2

nd

restoration.





...The plane did not have the "birdcage" canopy when I took the pictures. I remember seeing a typical blown hood canopy, and I think it was from a dash 1D or early dash 4 model. The canopy did not have the additional horizontal frame like on the early dash 1's and 1A's.





...It did have the early birdcage canopy though, when I saw it at the Spruce Creek Airport on Thanksgiving Day in 1981 or 1982. I have some really cool pictures of Harry flying this plane in a high speed low pass on this day.

...

If memory serves me correctly, I remember Harry saying that he picked a Corsair up from the NAS Jacksonville. The Navy had it in a hangar, pushed back in a corner and "forgot" about it being there. It was either this plane or his F2G. Harry was killed in a landing accident at the Ti-Co Air show in Titusville, on April 4th, 1992. He was flying a 1954 AD4 Skyraider when he nosed it over on landing. The canopy sits high in a Skyraider and he was crushed when the plane flipped over on its back. This time unfortunately he didn't have mud to cushion the impact. His wife sold off most of his collection shortly afterwards. He was a good man and is still missed.

...His old F2G-1 has also been perfectly restored to #57 race configuration by Bob Odegaard in North Dakota. It flew again in 1999, and was raced by Bob from 2006-2008. From what I can tell, Bob was killed in September of 2012 when he was flying another F2G-2 race #74. Another tragic loss, in both man and machine. Now if I can just find out what happened to the dash 4B..."

That adds a bit of confusion, since apparently 17995 was found in Provo already with the birdcage canopy resting on the fuselage (see photos above). I guess Louis refer to the adaption to incorporate the missing rear windows...

Thanks Tom and Louis! As we see, there is a possibility that sometime Harry has tried to fit the original blown canopy.

As for the second question, the answer is no. The honor goes to F4U-1 BuNo.17799 owned by Planes of Fame in Chino, California. BuNo.17995 is not the oldest non-flyable Corsair, neither, since BuNo. 02465 (a genuine birdcage) was recently recovered from Lake Michigan and is currently under restoration at the National Naval Aviation Museum, NAS Pensacola, Florida.


Postscript (may/2014):





Louis Gardner came again to rescue us with some wonderful comments and photos on the history of this particular warbird:




"...After I looked at the pictures again today, I realized that my memory was wrong. The Corsair did not have the birdcage canopy until the second restoration began at New Smyrna in 1983. Up until then she had the normal blown style canopy. Harry Doan had his men install the bird cage canopy then. Also, when I look at the pictures now, I realize that the plane had the original early style main landing gear wheels then. I don't ever remember the plane having an arrestor hook installed. You will have to look at the pictures to see if the proper tail wheel and oleo leg are present during this time frame...."

And finally the solution of the puzzle: "These pictures were taken by my Dad at the Big Tree shop during the summer of 1976. In it I am standing next to the tail section of 17995. This is before the wings were installed. In the background is Big Tree Rd. Harry Doan's home was just to the left of this picture and is blocked by the nose of the Corsair..."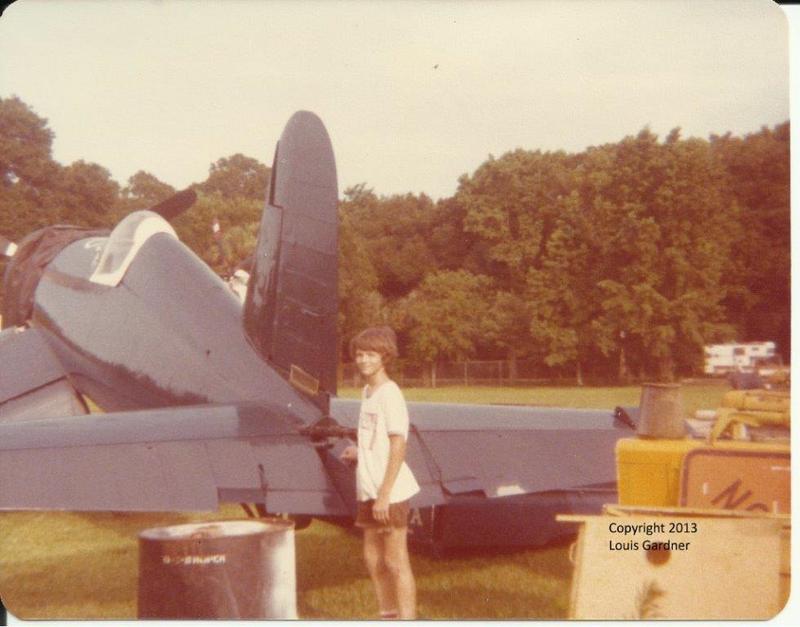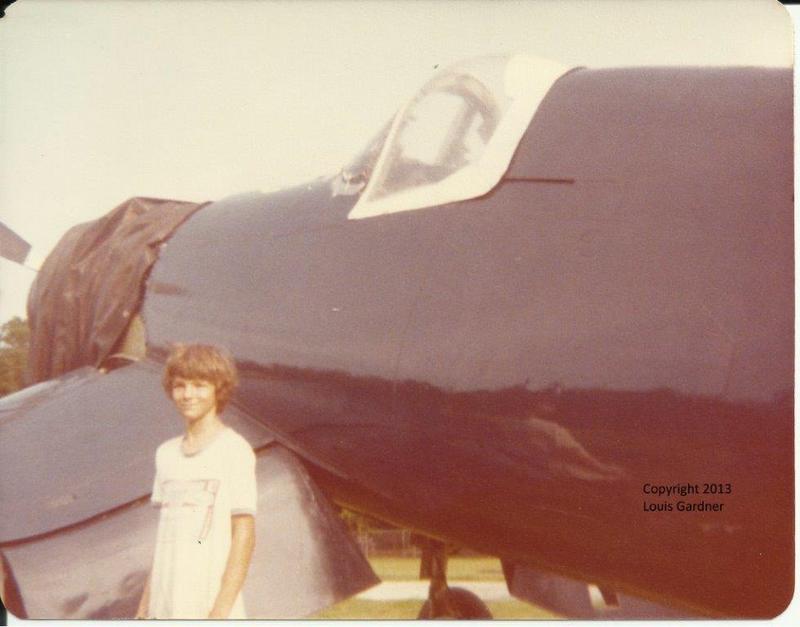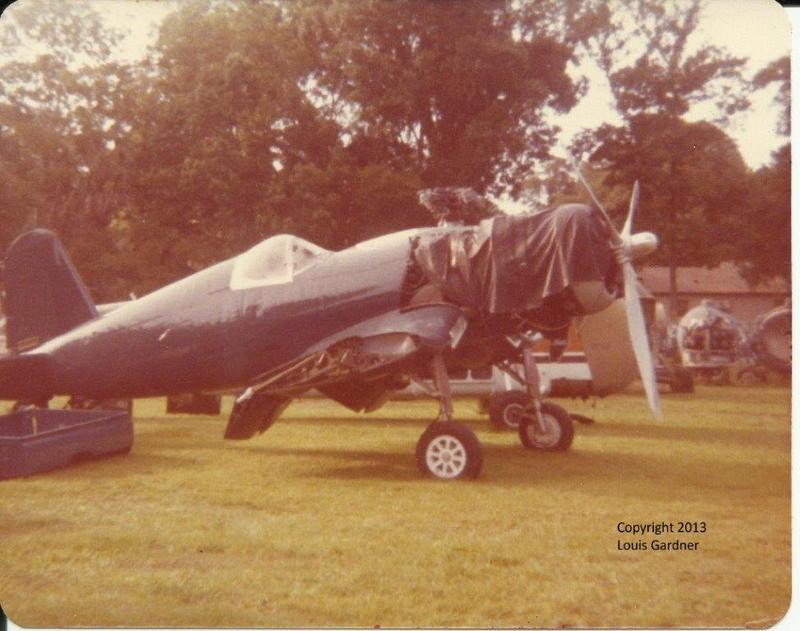 "I took this picture of #17995 during Thanksgiving weekend of 1982. Harry Doan was taxiing by in preparation for takeoff at the Spruce Creek Airport. This was how she looked after the first restoration was completed. She has a blown canopy here and is painted in the tri-color scheme of VF-17 Commander, Tommy Blackburn. The plane was numbered #1 and was named "BIG HOG" on the vertical fin. I believe it had 5 kill markings under the port side cockpit:"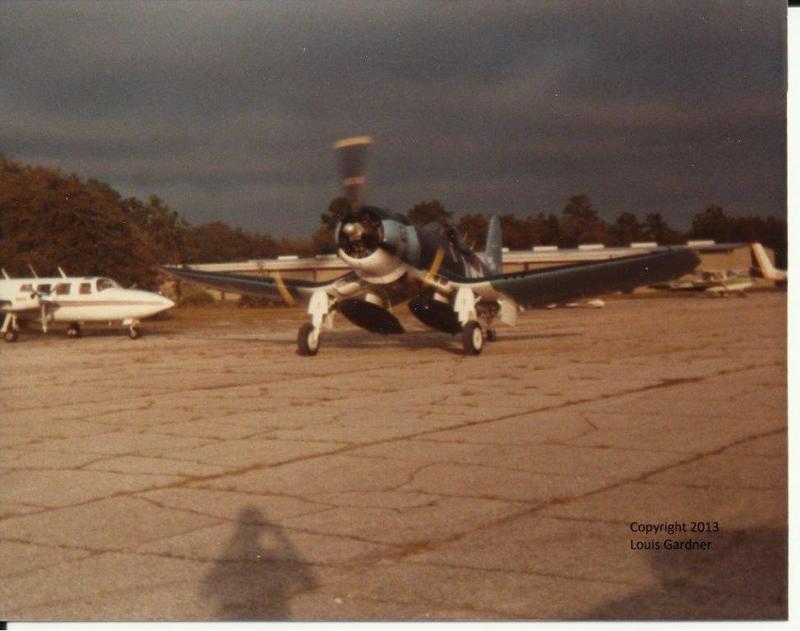 "Harry flipped the plane over on its back at the end of the runway at New Smyrna Airport during either April or May of 1983. He lost the brakes and ran off the end of the pavement, flipping upside down in the mud flats at the end of the runway. The fuselage broke in two just behind the cockpit. The airframe received considerable damage but was restored to flying condition again:"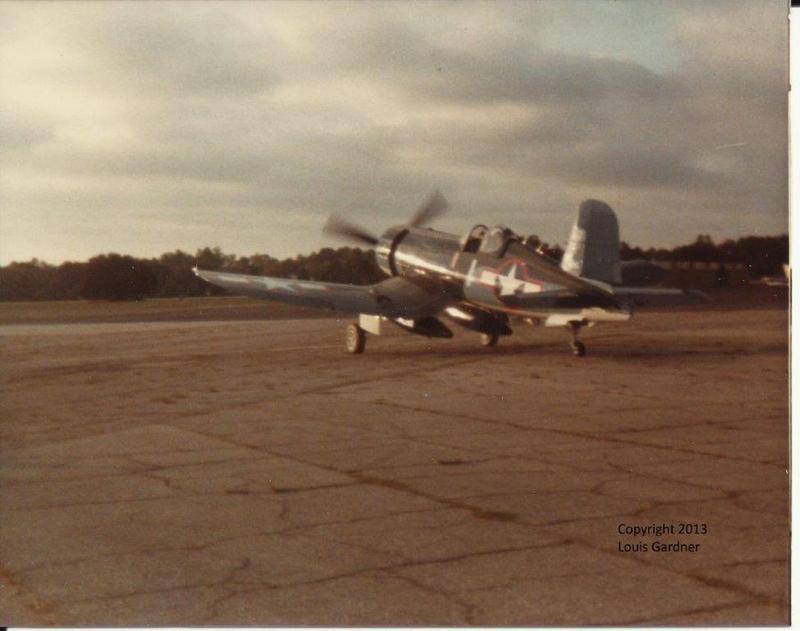 Louis also sent many other very interesting photos about Harry Doan's shop at Big Tree Rd., but that's another story...


---
Summing all up:
BuNo.17995 is a F4U-1A built by Vought during 1943.

She served during the war in VMF-441 and crashed on March 26 1944 (pilot: Capt. L. E. Midkiff).

The aircraft was displayed as a war memorial in Provo, UT during 1944-1950.

Remained at Provo as a derelict in a railroad yard until 1967, with a birdcage canopy resting on its back.

She was restored by Harry Doan to the 1A configuration in 1976, and flew as such until...

...April or May of

1983, when Harry Doan flipped the plane over on its back at the end of the runway at New Smyrna Airport.

After the accident, 17995 was restored again to the current configuration, with the birdcage canopy, as it is today at TAM's Museum after a few trades.

I think that solves the mystery. A bit thank you again, Jim Sullivan, Tom Lund and Louis Garner. Your help on this was priceless.
---
Well, besides the wrong canopy, this aircraft carries the wrong post-war main wheel, wrong tail wheel yoke, and wrong propeler. The arresting hook is missing. The cockpit interior is painted in light gray and the walk-on stripes are not painted in the correct place. These are smaller details restoration-related. This is a fine and rare bird...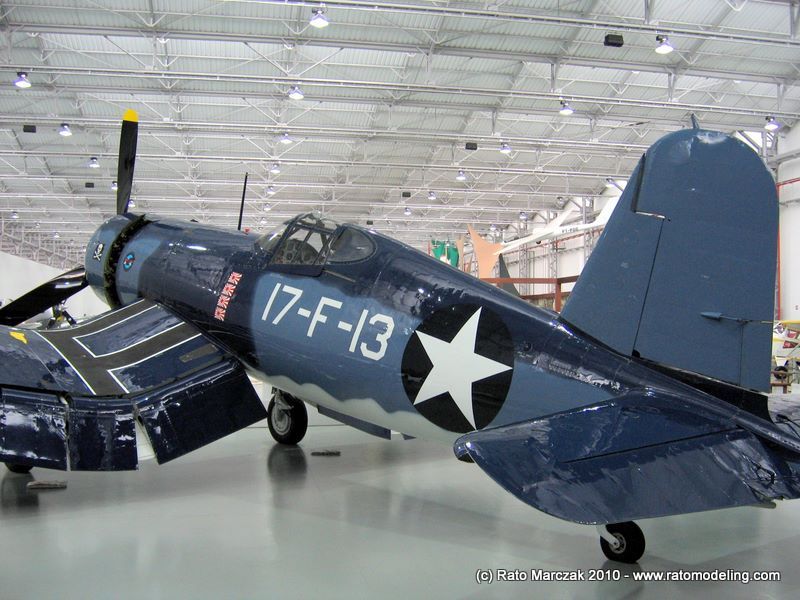 ---
---
Main landing gear:
---
Propulsion, cowling and radiators:
---
Wings and control surfaces:
---
Tail unit:


---
Canopy & cockpit:

(sorry for these crappy photos - I was shaking like a leaf on tree...)


---
I hope you find these photos useful to your next modeling project. If you have any interesting information about the history of this aircraft, please drop me a line.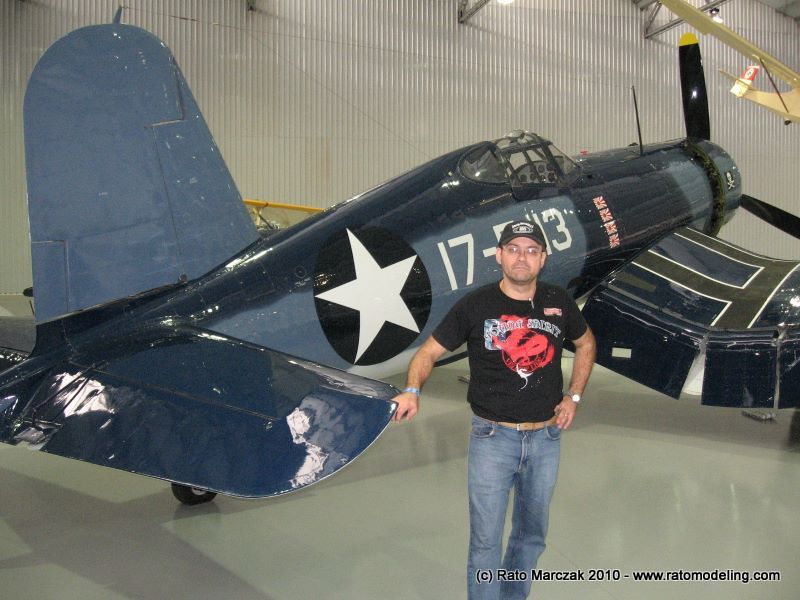 Your editor with his favorite all time aircraft.
Rato Marczak
© 2010, 2013