Walkaround - Naval Aviation Factory N3N Yellow Peril Bu.42782
What:


Walkaround - Naval Aviation Factory N3N-3 Yellow Peril Bu.42782



Where:

Carl A. Spaatz Field / Reading Regional Airport, Reading, Pennsylvania, USA.
When:

World War II Weekend,

June 4-6, 2010.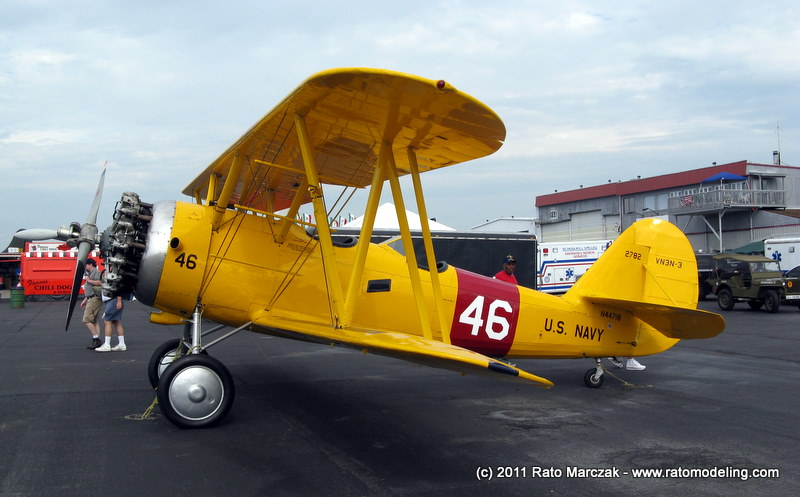 Here is a walkaround of a Naval Aviation Factory N3N, the Yellow Peril, as the cadets called it back in WWII. This dash-3 example,
Bu.No.42782 (civil reg. N44718)
, is owned by Mid-Atlantic Air Museum, and is in impecable condition, attending several air shows every year.

The N3N seems overlooked in favor of his stablemate successor, the Boeing PT-13/N2S Caydet, and the two are often mistaken for each other. The Yellow Peril played a very important role during pre-war and WWII years, training thousands of pilots, and still is not as well documented as other aircraft of its era (neither well represented in modeling industry).


A word of caution for those using these photos as a reference - the engine is not the original. Thanks to David Jenista, owner of the NotAStearman blog, for the clarification:


"The Reading aircraft has a replacement engine. All N3N-3 aircraft (which includes all remaining complete aircraft in North America) left the factory with an NAF license built version of the Wright R-760. The installation is somewhat unusual with a front-mounted exhaust collector. This is enough of a visual difference that it merits the comment. The P&W R-985 was the most common conversion when the surplus N3Ns were converted for crop duster operation. The increase from 235HP to 450HP made a big difference in load capacity. Most likely this aircraft was a duster at one time and has been restored to "two-holer" configuration.
Today the Lyc. R680 is very popular with owners of the N3N because of good power (300HP), constant speed propeller, and spare parts. R-760 parts are becoming expensive and difficult to find."

The correct engine should look like in the photo below:

---
General views:


---
Wings and fuselage:


---
Tail:

---
Landing gear:

---
Engine:


---
I hope you find these photos useful somehow. If you have any interesting information about the history of this aircraft, please drop me a line.
Rato Marczak
© 2011