Barracuda British WWI Wicker AGS Seats in 1/32 scale
(product #BR32234)
Reviewed by Rato Marczak (2015)


Summary
Description:

- Drop fit resin replacement for several British WWI aircraft.

Scale:

- 1/32
Price:

- 9.95 USD

Contents & Media:

- 2 resin parts and instructions


Advantages:



- Exceptional casting.


Disadvantages

- None

Recommendation:

- Highly recommended.

With so many accessories and add-ons available these days, very seldom I am in the mood to make reviews, except when it is something which really catches my attention. I think this one is the case: Barracuda Studios released a set of wicker seats in 1/32 scale to enhance Camels, S.E.5As, Pups and other WWI types.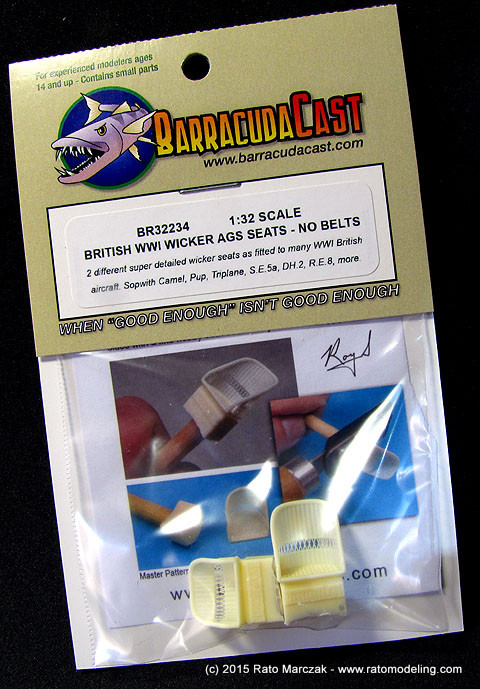 The quality of the parts is excellent, with a very clean molding, leaving to the modeler just a few passes with a hobby knife here and there to replace anything I have seen so far - injected or photoetched - yet head and shoulders ahead in terms of detail (except, of course, the one made by hand using fine wire by Robert Karr).
Two types of AGS seats are provided: a short and a long one. Check your references to know which one you need. I am sure an oils wash after a paint coat will make the details stand even more, lace by lace, of the cane, rattan, or whatever they used to make these seats back then.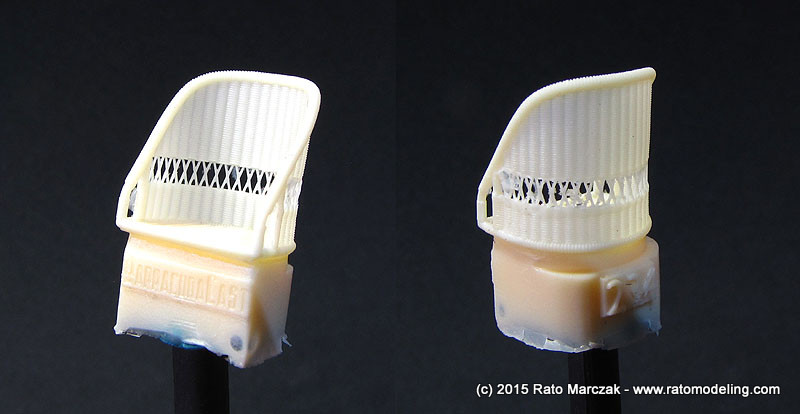 A while ago I started to make one using wire for my Hobbycraft Sopwith Camel. Of course I trashed all my attempts after seeing this (to add insult to injury, Wingnut Wings will be releasing a new Camel next year). Best of all, you don't need to make any mods to your model, just drop it in place with glue and it's done, except maybe for the seatbelts.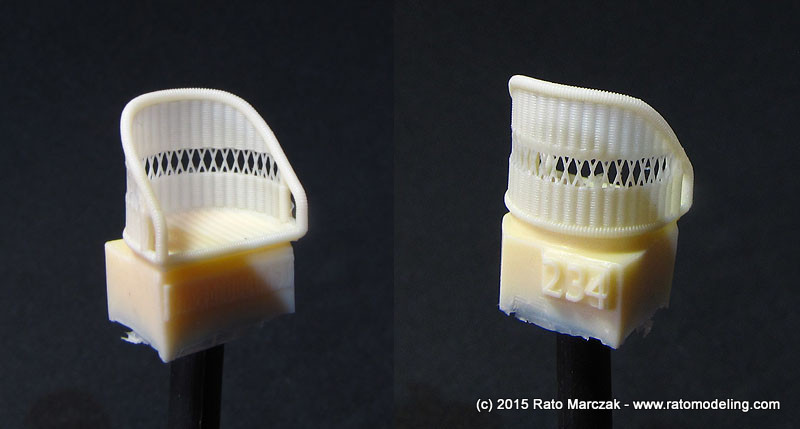 There you have it, an excellent value for your money, and a detail set which even the most talented scratchbuilder will fight to beat. Ah, the joy of 3D printing...
For the records, Barracuda has just released these seats em 1/48 and 1/72 scales too. I can't recommend enough this set.
Rato Marczak
© 2015