In my town, we are fortunate to have a nice bunch of modelers, historians and aviation enthusiasts, but a few are also accomplished authors. Leandro Casella and Professor Rudnei da Cunha are among them. Having published other nice books in the past, Curtiss P-40 in Brazil is their latest and - in this reviewer opinion, best effort so far.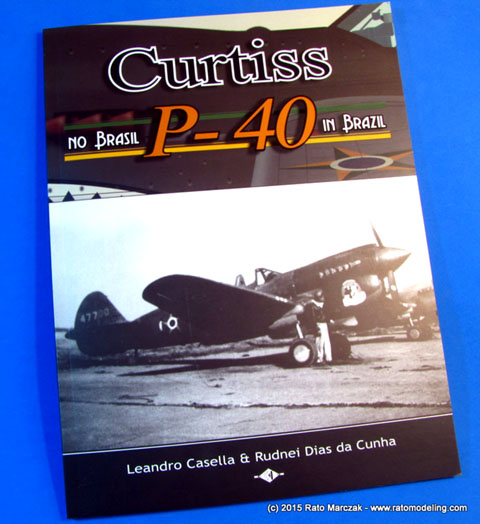 Over the years several books about Brazilian Air Force (FAB) aircraft have been published, but I think they all lacked the technicalities true enthusiasts expect to find in them. Aircraft general description, squadron history, organization and markings, camouflage schemes, reliable sources and useful photos about a particular aircraft are seldom found in one single volume. Leandro and Rudnei managed to put it all in this book, and the result will please not only aviation buffs interested in the FAB, but anyone with general interest in the Curtiss P-40 or aviation history.
The book is nicely printed in high quality paper, alternating B&W and color pages. It is divided in eight chapters. Text is bilingual, Portuguese and English, so our friends from other lands can read it.
It starts by describing its predecessor, the P-36 and follows with a general appraisal of the P-40 career during the WWII. The nice thing about these first two chapters is a description of each sub-type in the Warhawk's genealogy, starting from the P-36A (Curtiss Model 75) and going through all operational types up to the P-40N.

Chapter Three describes briefly the P-36 career in FAB, and from the next chapter on it is all about the P-40. The initial deployment to Natal, Recife and Salvador air bases, mixing P-40Es, Ks and Ms in the worldwide famous sharkmouth camouflage is covered in Chapeter Four, including many color profiles of the less documented early camouflage mixing RAF and US schemes. Chapter Five gives us an account of the mostly important period of the formation of the Brazilian 1st Fighter Group, and their training in Panama with the 30th US Fighter Squadron. I was pleasantly surprised to find some unpublished (to me) photos. There is a formidable archival work here. This is not a book written by someone who collected photos on the internet.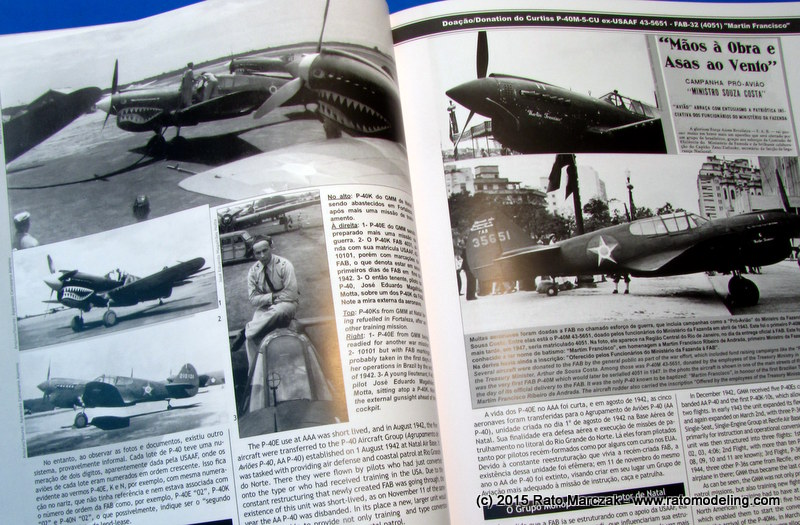 Chapter Six describes the operational career of the Brazilian P-40Ns and the creation of FAB's 2nd Fighter Group initially at Natal Air Base, then moving on to Santa Cruz Air Base. The text mentions the initial training of the 2nd FG by US officers in aiming its deployment to Pacific, an almost unknown fact. It was at this point of their career with FAB that the P-40s natural metal scheme started to appear. By then the war was about to end, and the mixed bag of P-40E, K, M and N were ceasing their operation in Northeast. With the return of the P-47 survivors from Italy, plus some new ones, the P-40 were to be moved to the South.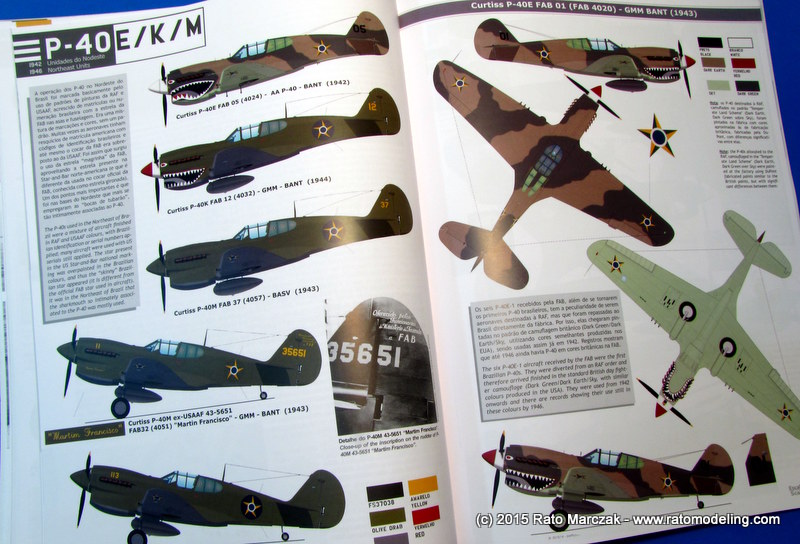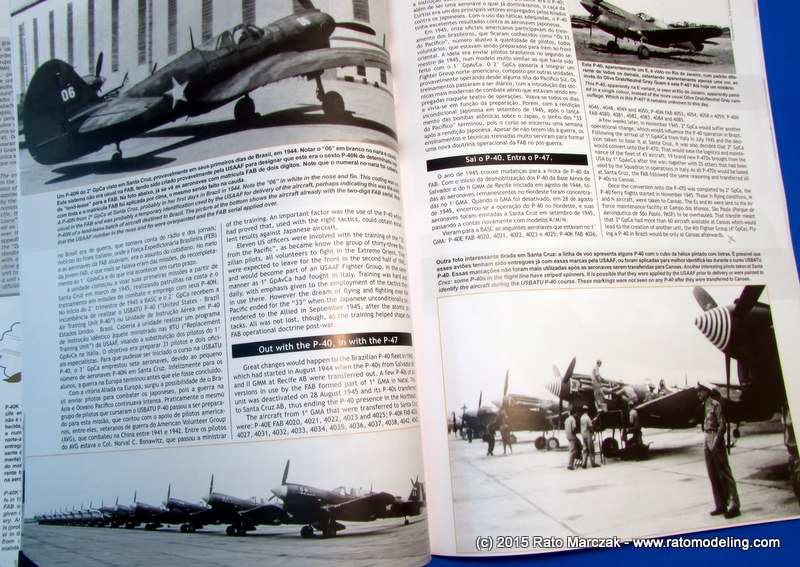 Chapter Seven describes in detail the final years of the Brazilian Warhawks, when the whole fleet was concentrated at Gravataí, Canoas and Porto Alegre. There are a few mysteries and legends clarified by the authors, and they are really worth the reading.
After ten years serving in the South, structural fatigue started to claim its high price, and these accidents are dramatically described in the text, eventually leading to the complete deactivation of the P-40 fleet in Brazil. FAB was the last operational user of the Curtiss P-40 Warhawk.
All but one were scrapped...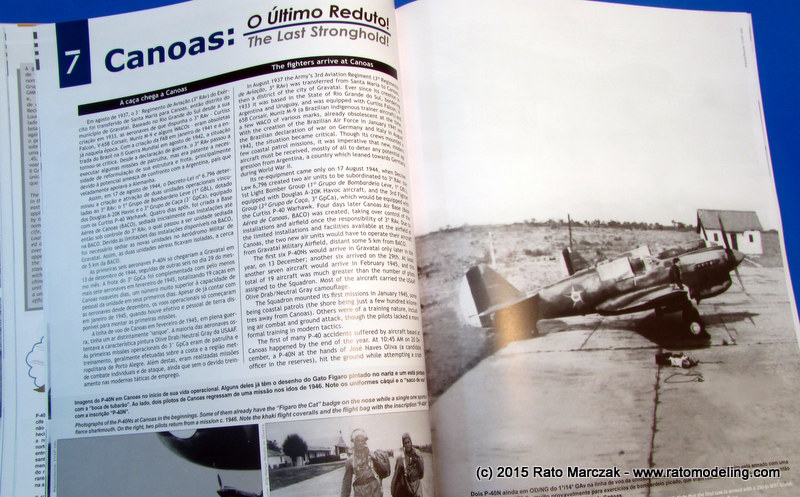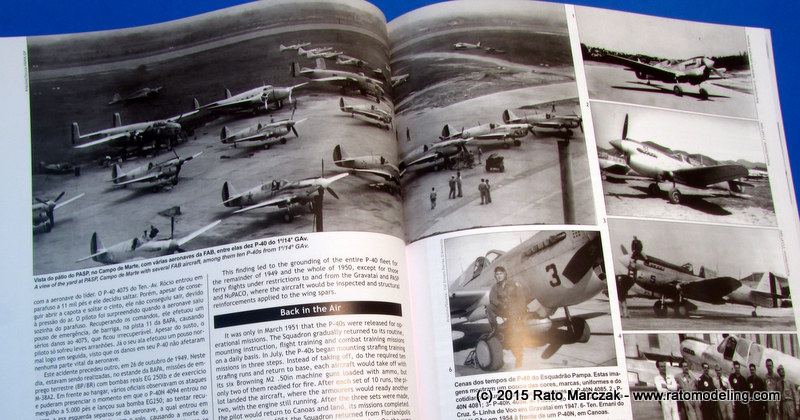 Throughout the text we find several complete tables (I mean complete) containing squadrons organization, color codes used, and remarks about each one of the P-40s used by FAB, including construction number, US serial number and FAB number. Even the last survivors in early 60s used for ground instruction are accounted for in Chapter Eight.

The book is stuffed with color profiles, including color names and FS codes wherever appropriate, and I doubt any modeler will be disappointed. Many profiles are backed with period photos, and I for one found several useful details regarding overpainted insignias, tail codes and spinner colors often overlooked in other publications.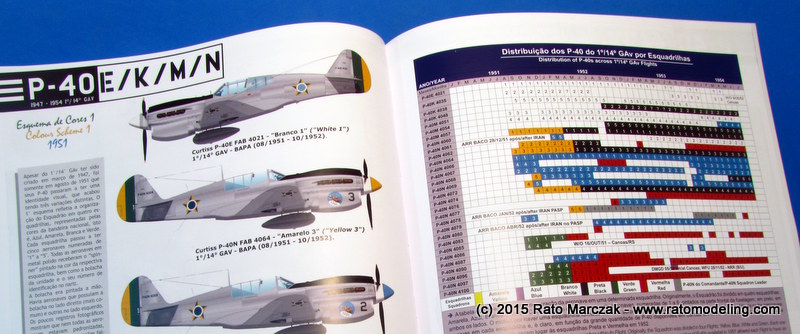 I cannot recommend enough this book. The P-40 Warhawk is one of the most iconic fighter aircraft ever, having been used by more than two dozen countries during and after WWII, and its history wouldn't be comprehensively written without these pages. I'm glad Leandro and Rudnei finished the job so eloquently. I'm eagerly looking forward to their next book...
Here is a shameless plug if you are interested in this book: