This Airscale decal sheet is clearly devoted to the detailer. Specially the cockpit detailer/scratchbuilder. Product AS32-PLA consist of typical placards found in WWII Allied aircraft cockpits.

The sheet is printed by Fantasy Printshop, and the overall quality is outstanding, as you could expect from them. You get sixty different types of placards, warning labels, selectors, switch box faces and many more.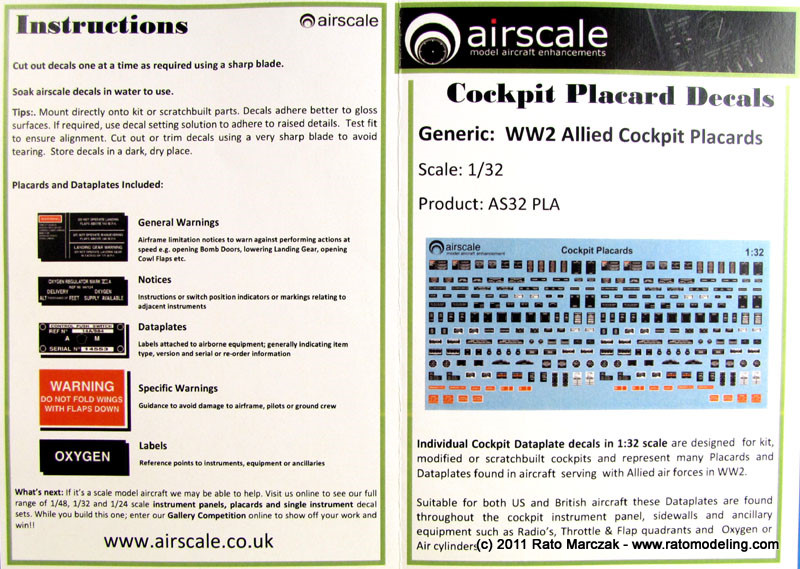 The sheet is printed in three colors: black, white and red. That's my only complain of this item, as many placards are actually printed over Aluminum sheets, and therefore a silver layer could be used... A magnifying glass will show you that all texts are readable. An advantage over other similar sheets is that all dials have individual clear films, so you don't have to cut the surrounding clear film out.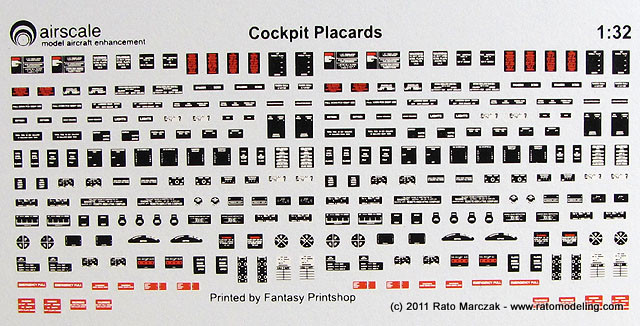 Since this is a generic sheet, some placards may not be exactly the size you need to make them fit in every spot, but small trimming won't detract from the final appearance. Make your measurements before dipping them in the water, just to be sure.

Some items are recognizable as "standard" items, like fuel tank switches, oxygen labels and so on. Others are, well, generic... Look for photos of your subject and I'm sure you will find suitable in this sheet.
.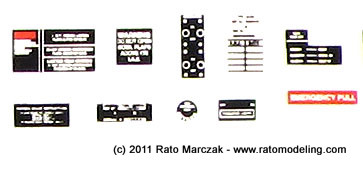 Although this is a set of cockpit placards, I'm sure many of them will find their way to landing gear legs, engine compartments and gun bays. Whatever is the case, they will give an extra life to your model.
Recommended.