In the tail of so many great WWI aircraft subjects in 1/32 released during the last years, Airscale released this great set of decals to help you to enhance your cockpits. Product AS32-WW1 consist of regular decals for no less than 33 different types of dials for instruments and gauges.

The sheet is printed by Fantasy Printshop, and the overall quality is outstanding, as you could expect from them. The instruments are a selection of Allied and German ones found in virtually every WWI aircraft.The list of instruments included in this item is listed in the picture below: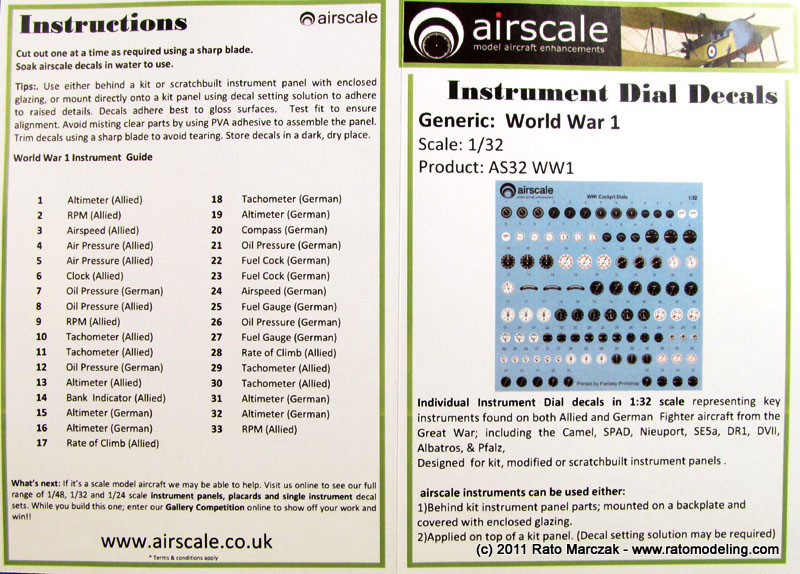 The sheet is printed in three colors: black, white and red. A magnifying glass will show you that Airscale used those fancy typefaces typical of the period, and many of the instruments have exquisite clock hands. An advantage over other similar sheets is that all dials have individual clear films, so you don't have to punch them out of the sheet.

Airscale seems to have used the actual dimensions of the instruments, with no particular reference to any kit. Therefore they may not fit exactly to the recesses of your kit's control panel, and probably you will need to make them sit over kit parts using your favorite decal setting solution.

I checked a few of the allied instruments against photos of actual instruments and they match very well, showing that Airscale has made their homework. All items are printed in triplets, so a sheet will last a few models.
.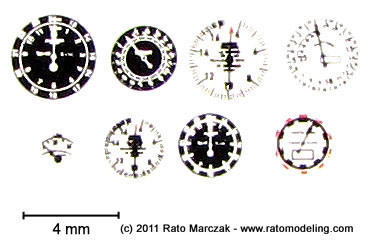 A bonus included in the package is a small piece of clear plastic to be used as the glass of your instruments, in case you want to scratchbuilt your own panels. Regardless you are going to make your own or use the kit's part, these decals will make any cockpit much more accurate.
Recommended.