Delta One - American G-6s decals in 1/72, 1/48 or 1/32 scale
Reviewed by Rato Marczak (
abr/
2015)


Summary
Description:

- Decal markings for Me-109G-6 captured by Americans during WWII

Scale:

- 1/72, 1/48 or 1/32
Price:

- Approx. 10.00 EU

Contents & Media:

- Printed decal sheets and instructions


Advantages:



- Minimal clear film borders.
- Good register and printing quality. Extremely thin.
- All three popular aircraft scales in one set.

Disadvantages

- Avoid strong decal solvents.

Recommendation:

- Recommended.

Another decal sheet provided to us by Delta One, this time for a somewhat rare subject - Messerschmitt Me-109G-6s captured by the Americans during WWII. Like the other two sets reviewed previously (here and here), I am again very impressed by the quality of their decals.

This sheet brings markings for no less than nine captured Me-109G-6s in the three popular aircraft scales (each scale is a different set - choose yours)! The overall quality is outstanding, with a good color saturation, thin film, and perfect register.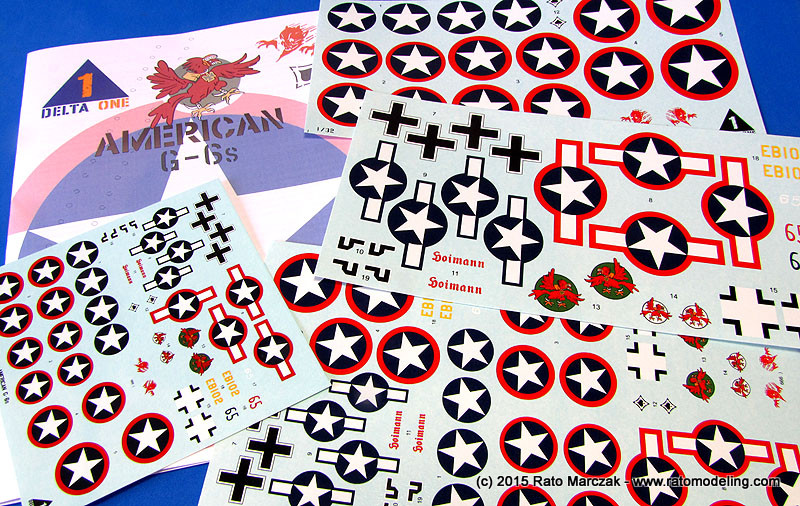 All markings are repeated in the three scales, and the swastikas are provided in halves. Some of the subjects in this sheet are well documented in the bibliography, and analyzing specific details (like the overthick borders around American insignias) shows that Delta One has done its homework: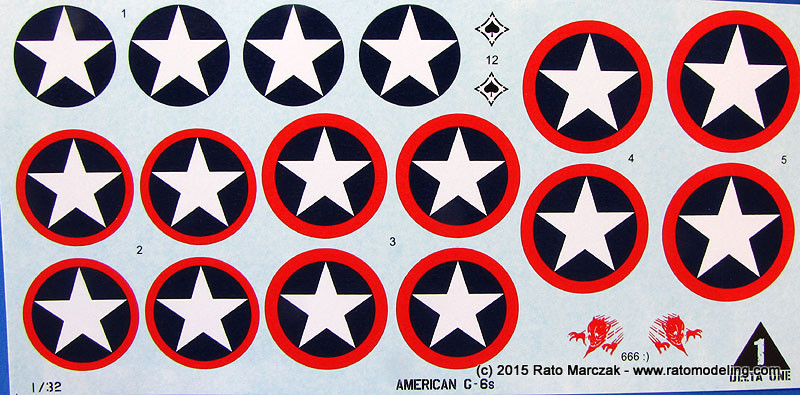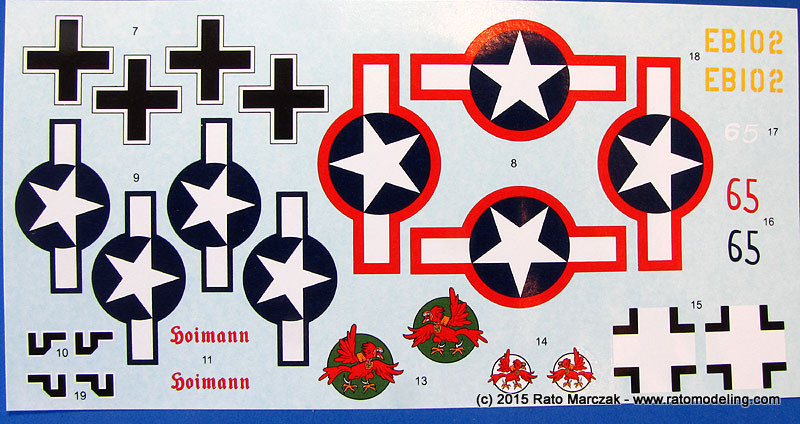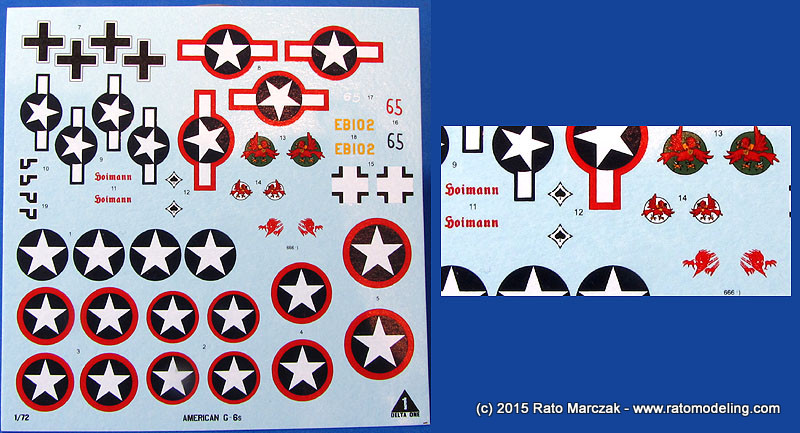 The schemes covered in this sheet are:
Me-109G-6/Trop, W.Nr unknown, formerly Yellow 16 of 9./JG 77 turned squadron hack for the 325 FG in Tunisia and flown by group commander Lt. Col. R. L. Baseler. Used for mock dogfights to teach young American pilots how to fly against the Me-Bf109's.
Me-109G-6/Trop, W.Nr 16416, formerly White 8 of 4.Staffel/JG 77, captured intact by American soldiers on 8th May 1943 at Soliman airfield, Tunisia.
Me-109G-6/Trop, W.Nr 18098, formerly 154 Squadriglia and captured during Sicily campaign. Turned into a canopy-less two-seater by the 57 FG (early color scheme)
Me-109G-6/Trop, W.Nr 18098, same as above with late color scheme - it was painted tan or US Dark Earth overall with red spinner/wingtips and early insignia type roundels with thick red border.
Me-109G-6/Trop, W.Nr 19096, formerly 154 Squadriglia turned into squadron hack for the 57 FG
Me-109G-6/Trop, W.Nr unknown, possibly 18068, captured in July 1943 at Comiso or Pachino airfield. Formerly Luftwaffe example turned into squadron hack for the 57 FG
Me-109G-6/Trop, W.Nr unknown, also restored for the 57 FG aero club. Captured at Pachino airfield.
Me-109G-6/R6/Trop, W.Nr 15270, formerly Yellow 14 of 6./JG 53. It retained its standard Luftwaffe camouflage colors of RLM 74/75/76 colours with red spinner and wingtips.
Me-109G-6/R3, W.Nr 160756, formerly Yellow 4 of 3./JG 4, defected to Americans at Santa Maria, Italy. Sent to US for flight test, now on display at the National Air and Space Museum as White 2.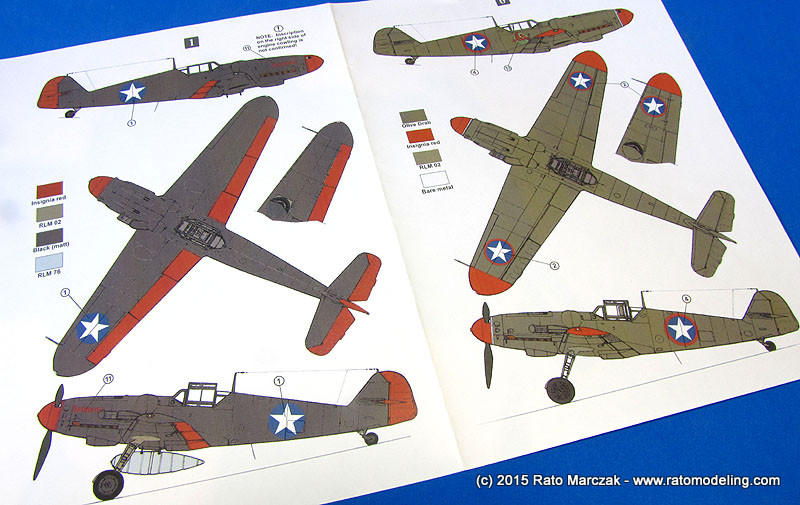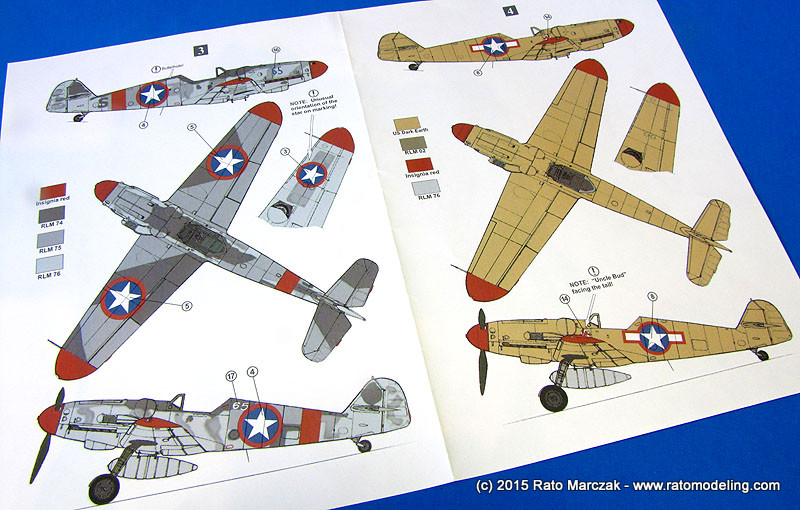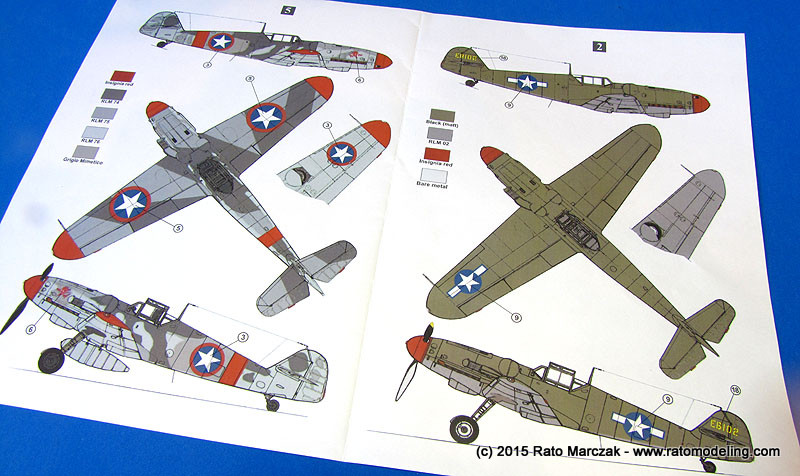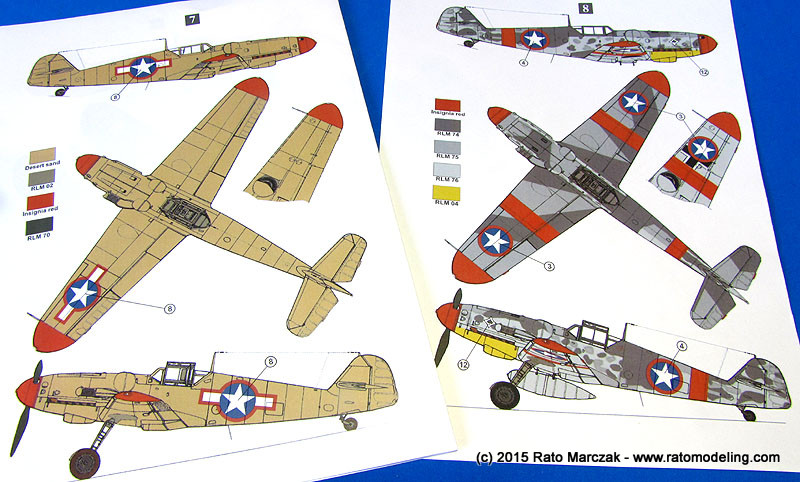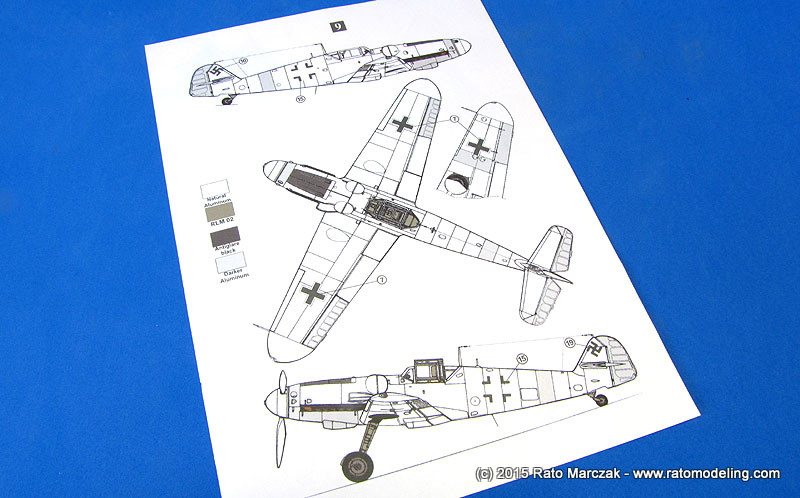 Being the same manufacturer, I am sure they will behave pretty much like the excellent results obtained with their previous sheets, which were
tested before
. Therefore, I would only advice you to avoid solvent solutions (they won't need any).
If you like unusual schemes, this sheet is for you.
Recommended. Thanks to Delta One for the review sample.

Rato Marczak
© 2015