Flory Models sanding sticks
Reviewed by Rato Marczak (2012)


Summary
Description:

- Assorted sponge backed sanding sticks

Scale:

- N/A
Price:

- 3.75 GPB

Contents & Media:

- General sanding and polishing sticks


Advantages:



- Very soft backing sponge.
- Very soft abrasive layer.
- Polishing stick produces mirror like surfaces on a few passes.


Disadvantages

- None.

Recommendation:

- Highly recommended.

When I ordered a few samples of the sanding sticks traded by Flory Models from U.K., I was expecting something like the ones maketed by Mastercasters some years ago. I wasn't wrong, they may even be the same product. Anyway, these are sponge backed sanding sticks. The blue stick is a general purpose one, and is rated as grade 240, and are sold as wide sticks as well as a narrow version for more delicate work. The polishing stick has a grey side to eliminate stratches while the white side is used for polishing.

The sticks are sold in bags containing several narrow blue sticks or bags containing two wide blue sticks plus a polishing stick.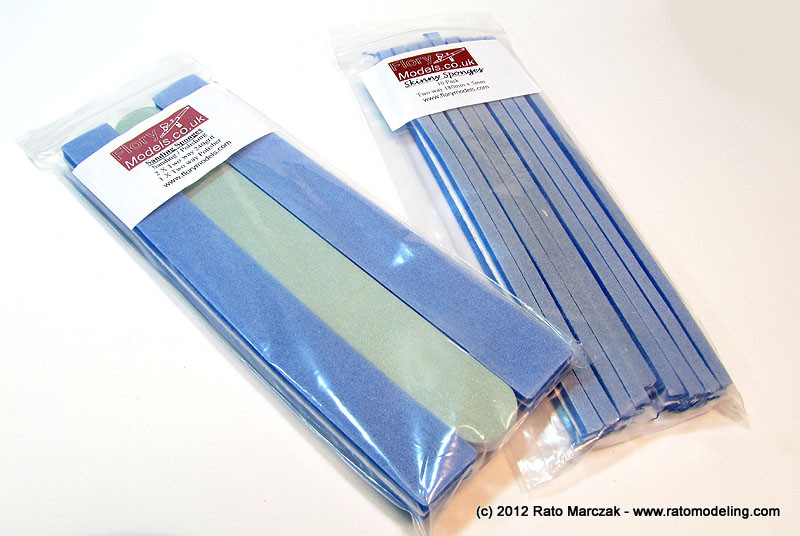 After testing these products, I found out that the blue sticks are actually finer than the 240 advertised. They are very handy to sand fuselage and wing seams, as the soft sponge allow it to conform to most surfaces of your model. More importantly, they don't leave deep scratches as other sanding sticks of the same grade, making easier the finishing of the surface.
The surprise was the polishing stick, with the grey side removing all the fine scratches while the white one producing an extremely polished surface. The applications go way beyond clear parts. I know about modelers using the white stick to prepare flat painted surfaces for the decals without the need of any clear coat. It's almost like magic:
A bonus included in the package is a small piece of clear plastic to be used as the glass of your instruments, in case you want to scratchbuilt your own panels. Regardless you are going to make your own or use the kit's part, these decals will make any cockpit much more accurate.
Recommended.

Rato Marczak
© 2012