Satellite tools Caution Decal Set in 1/72 scale
(products #211-380 & #213-380)
Reviewed by Rato Marczak (2014)


Summary
Description:

- Decals.

Scale:

- 1/72
Price:

- 5 USD approx.

Contents & Media:

- 1 sheet (140mm x 100mm) of stencil decals


Advantages:



- Can be used in virtually any project, including other scales as well.

Disadvantages



Recommendation:

- Highly recommended.

Here is an interesting product I stumbled over while looking for other products on the internet. It is a set of 1/72 stencils decals produced by Satellite Tools of Japan. Reviewed here are sheets 211-380 and 213-380 (red and gray stencils, respectively). The set is produced in black (215-380), white (212-380), gray (213-380), red (211-380), and yellow (214-380) colors, all with the same content.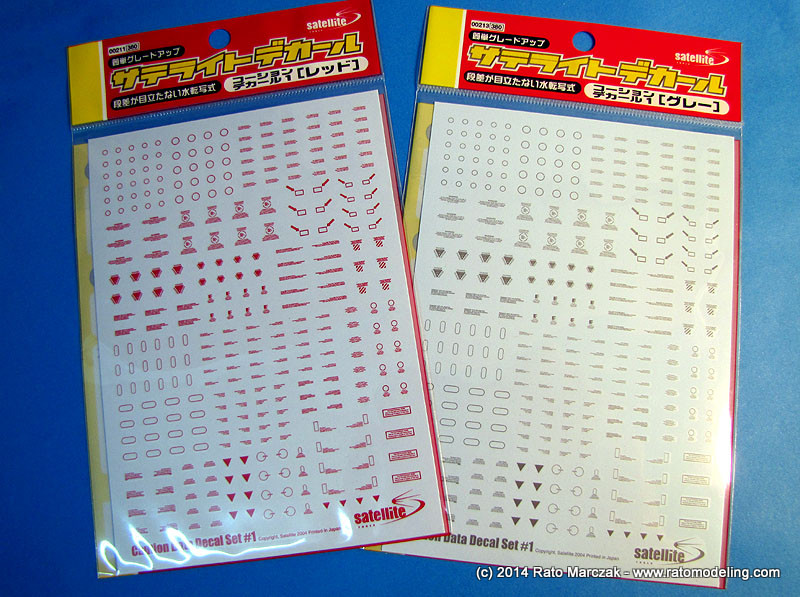 I've never heard of this manufacturer before, however, this is the kind of product that really helps us when we are looking for a replacement stencil of the kit's decal sheet, or when there is no stencils at all in the stock decal sheet. There are a nice selection of symbols and text is very well printed, allowing us to add warning, maintenance, danger - you name it - stencils to our models. A nice touch are the several geometric shapes that surely will find their way around fuel caps, starter plugs and various hatches:
Being caution stencils, and being printed in all basic colors, it is just a matter of finding the one which contrasts accordingly to your application. I'm not aware if they are produced in other scales, but many of them can be used in other popular scales as well.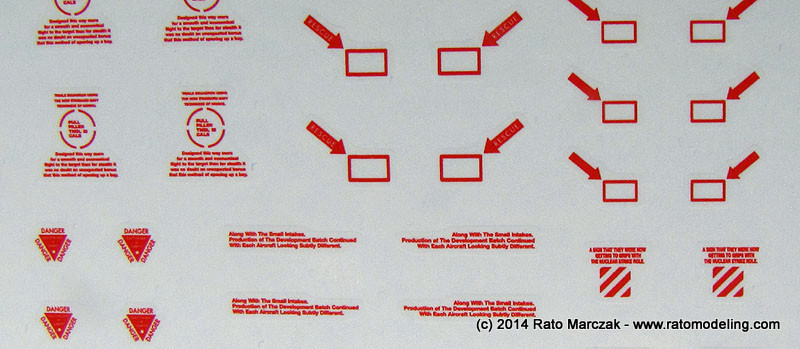 A funny caution (no pun with the decal sheet label), though. Maybe the designers of these sheets were not counting on the fact that the quality printing would allow one to read the stencils under a magnifier. And if you do so, you will find some funny excerpts. I did:

I'll leave it up to you whether you want to see what is written in the other stencils or not. Hopefully, nobody will check them so minutely once applied on my models.
This is a fine product and I'm sure modelers will find several applications for them...
Highly recommended.
Rato Marczak
© 2014