This year I managed to attend the Scale ModelWorld at Telford, and had the opportunity to wander through the vendors halls on Friday, before the official opening. As soon as I spotted Whirlybird stand, I knew my credit card would suffer. I had a warm reception by Roger and Dave, and both blew my mind with a blast of information and new releases. When I asked about their Jolly Green Giant in 1/72, they promptly showed me theirs. Right there I knew my always postponed Vietnam diorama would finally take off. So far the only Jolly Green Giants kits we had were the hardly buildable Lindberg and the quite old Revell - both far for modern standards. Since I usually don't write reviews of mainstream models - we are already plenty of them, and I know many of you will be interested in this one, here it is.
The Whirllybird Jolly Green is a resin kit, so if you don't like to build resin models you may stop reading now. It comes in a very sturdy cardboard box (always welcome to those who are traveling), and the parts are separated in sealed plastic bags. I haven't found a single broken part in my sample, or bubbles from the casting. The quality of the parts is excellent, with a very clean molding in flat grey resin, and others in shiny black resin. The windscreen is molded in clear resin, and the side windows are provided as an acetate sheet to be cut - which is my only complain about this kit.
Roger told me that this project was born when he started to make a list of necessary modifications to bring the Revell HH-3E to a better accuracy level. When he reached 150 in the list, he stopped and decided to make a new one. The Whirlybird kit shows it, and I guess no Jolly Green Giant fan will be disappointed.
A detailed cockpit is included, but if you open the rear cargo door you have to add the interior of the fuselage. Whirlybird provided a template and a sheet of plastic card to help you there. You have options for the pantoons, fuel probe, FOD guard, besides the decals, allowing you to model either an early CH-3E, standard HH-3E or the US Cost Guard HH-3F, including a hoisting basked and winch.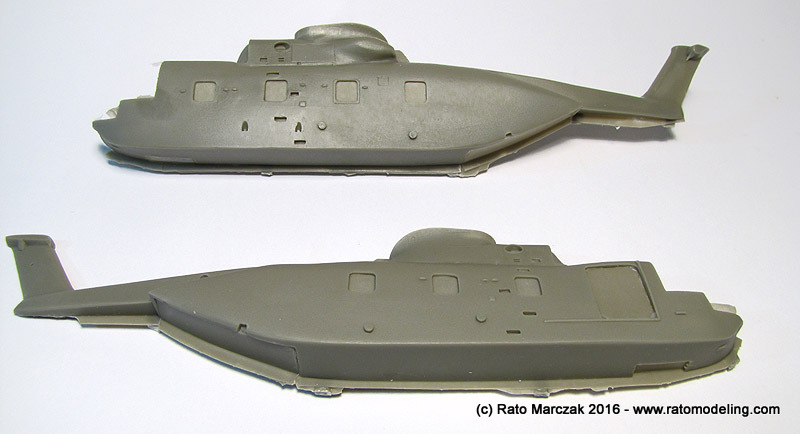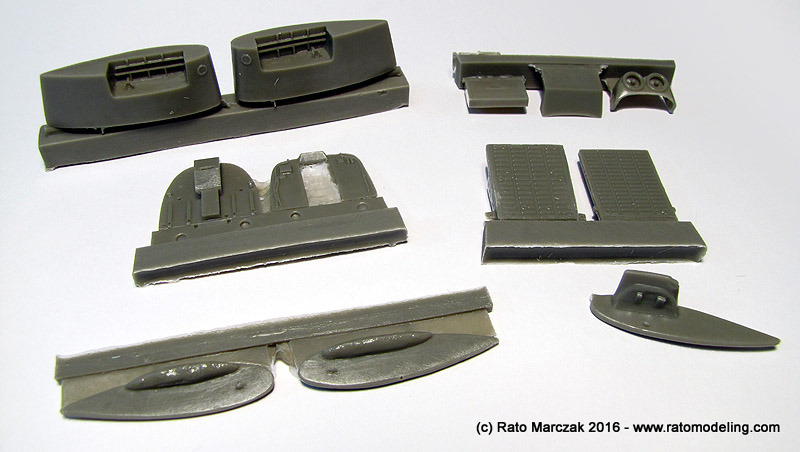 The fuselages come in halves, pretty much like the Revell kit. They elected to include very few panel lines, however quite a few surface details are included. Openings, hatches, bulges, etc. I particularly liked the shape of the engine bay. All you have to do is to sand off the excess resin and open the windows, hoist door and the rear cargo door, if desired. Like any other resin kit, take your time during the parts preparation.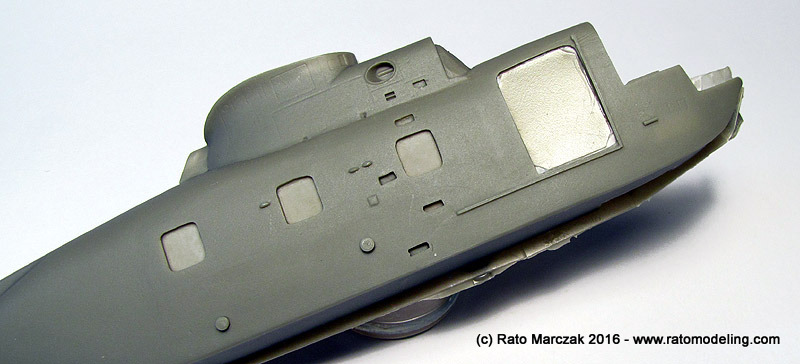 The main rotor propeller blades are cast in a bright black resin, slightly bend downwards to simulate weight: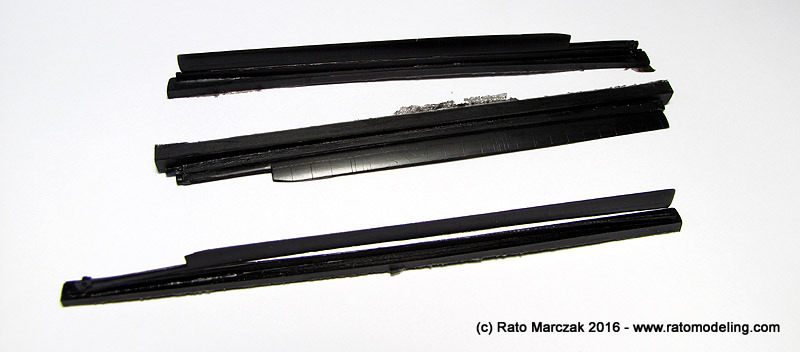 The pantoons must be glued to the fuselage sides. The main landing gear bay has basic details, but there is not much to see in the real thing neither. The end part of the pantoons are optional: plain (CH-3E), with fuel tank supports (HH-3E) or no fuel tanks with inflatable floating gear (HH-3F). The extendable refuelling probe is to be used in the HH-3E version, as well as the external fuel tanks.


The engine intakes are very well molded, and you also have the option of installing the FOD guards depending on the version you choose.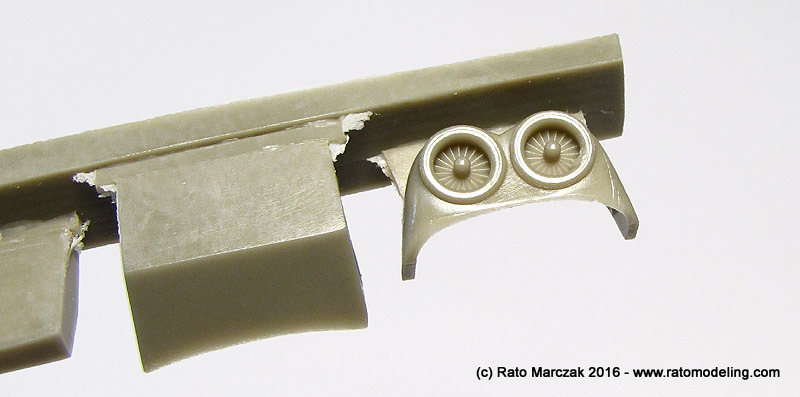 A pretty detailed cockpit is provided, including seats, control panel, pedals, control columns, collective, console boxes, and photoetched details. No seat harness, though.


The wheels are all the same, like in the real thing. The landing gear struts are sturdy enough to support the weight of the model, they seem to me. Even cast windshield wipers are included if you don't like the photoetched ones!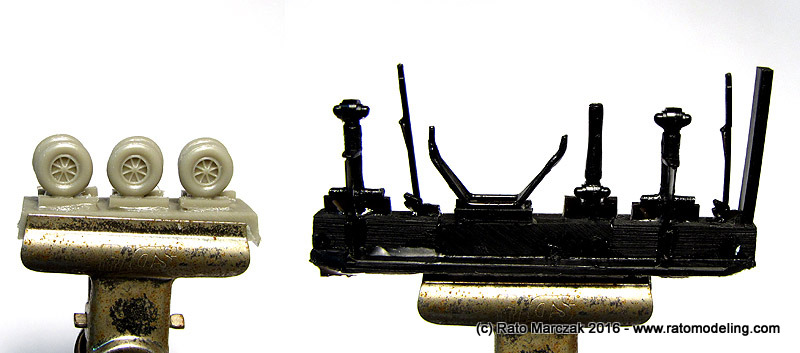 The tail propeller is very well detailed, and I'm still scratching my head about how to clean such a delicate part without harming the details... The main rotor is equally well detailed, although I'm guessing that not much of it will be seen under the main rotor cap: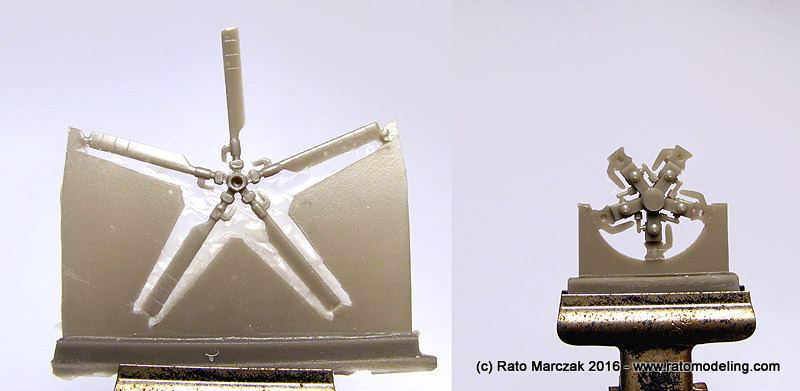 The windscreen is a single clear resin part. At first I thought it contained strange specks inside the resin, but a close inspection showed that it was only some kind of dust. The part is very translucent, but in such cases I always recommend a bath in Pledge Future Wax.
The photoetched frets included in the kit are a real bonus. Not only you get the minute details for the cockpit and rotors, but also lifting eyes, handles, grills, rails and even landing gear details to enhance the resin parts. A second fret contains machine gun mounts, racks and a USAF style entrance ladder. The quality of the etching is excellent. I probably will, however, replace most handles by bend wire.
The decal sheet is superb. Good color saturation, on register and well researched. More on them later. In spite of being possible to built a HH-3F from this kit (there are a set of separated instructions for this version), no decals for the Cost Guard were included in my kit. I checked and Whirlybird have this very same kit in the USCG markings, but couldn't find a Whirlybird decal sheet to use with the present one. So if you go for a HH-3F using this kit, you are on your own regarding the decals. The versions covered in the decal sheet includes:
CH-3C s/n 66-13291, 'Ain't This a Bitch', 21st SOS, Long Tieng, Vietnam, January 1970.
CH-3C s/n 63-09681, 'Give a Shit', 20th SOS, Vietnam.
CH-3E s/n 63-09676, 'Black Maria', 20th SOS, Vietnam.
HH-3E s/n 67-14712,13,15,16,17 (decals for 5 aircraft), 67th ARRS, Bentwaters, Suffolk, 1970s.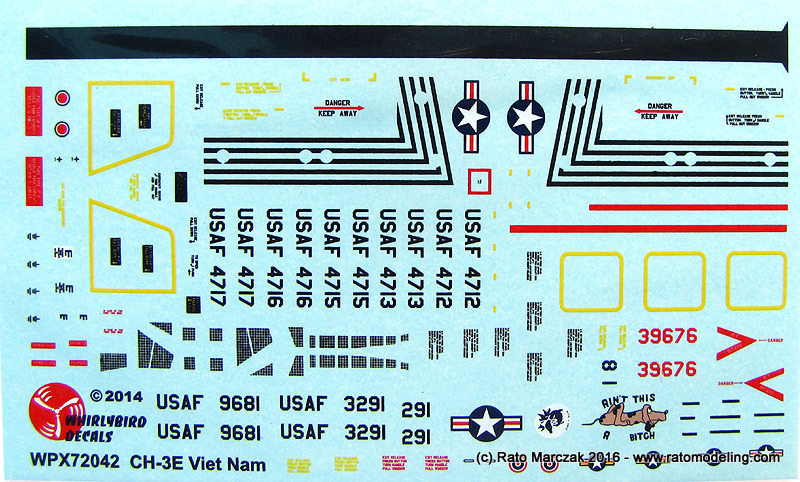 The instructions are provided as booklets, and they are fabulous. Mainstream manufacturers could imitate them. There are plenty information on the CH-3Cs, CH-3Es and HH-3Es. Every step of the assembly is illustrated with color photos. They went as far as warning the modeler not to apply putty along the fuselage/pantoons seams as there was a visible gap in the real aircraft there.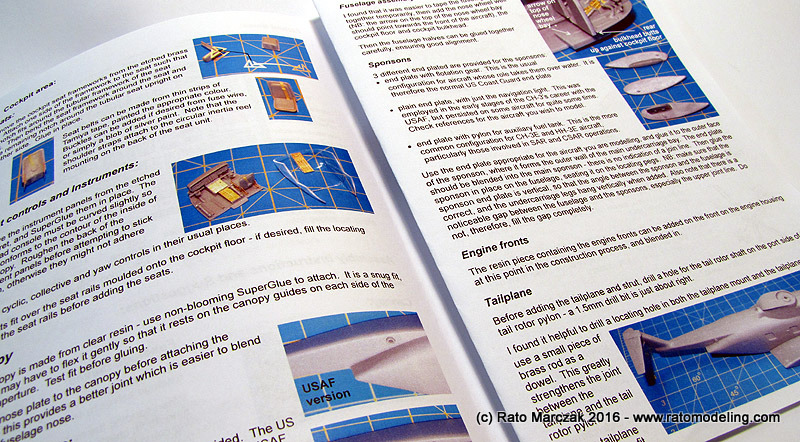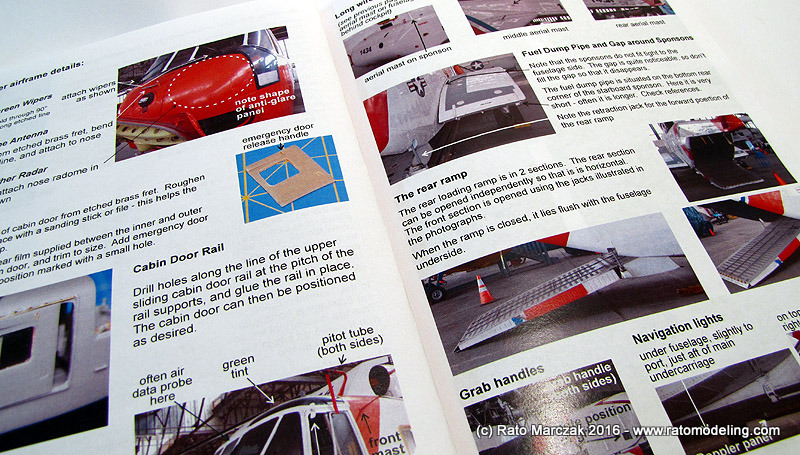 The camouflage schemes are very comprehensive, with colors indicated with Federal Standard system, and camouflage plans included. A stencils map is also provided. Several color photos illustrate the different versions. The instructions text suggests that HH-3Es were not used in Vietnam before 1970. Having just read 'Vietnam Air Rescues' by Dave Richardson (the Jolly Green pilot who rescued Streetcar 304 - the second longest pilot rescue mission in Vietnam), I have some doubts. Anyway, I'm currently discussing this point with Roger and will add a postscript later.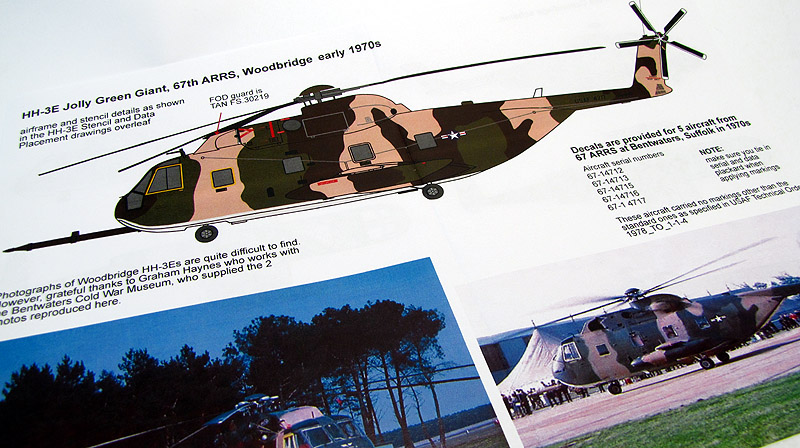 And that's it. If you really need a Jolly Green Giant in 1/72 scale, there you have it. I want to start mine as soon as possible, but with my usual luck, by the time I will be applying the decals Tamiya will be releasing a new one...
For the records, here is yours truly (center) at Whirlybird stand during SMW 2016 with Dave (left) and Roger (right)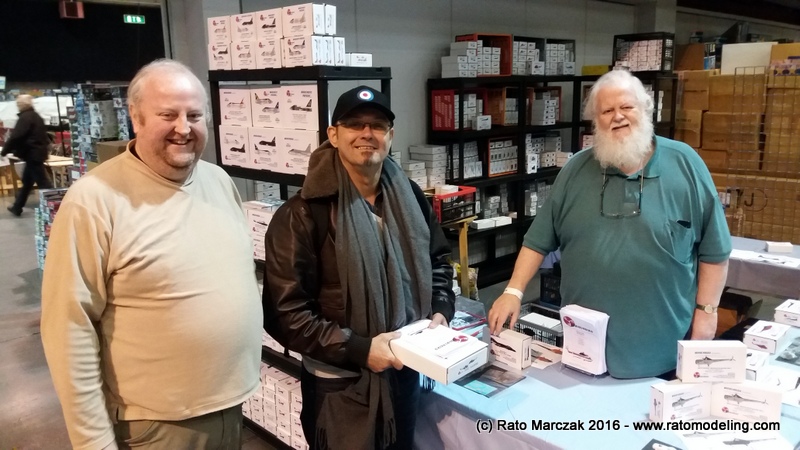 A very good kit of a very forgotten subject. Recommended.